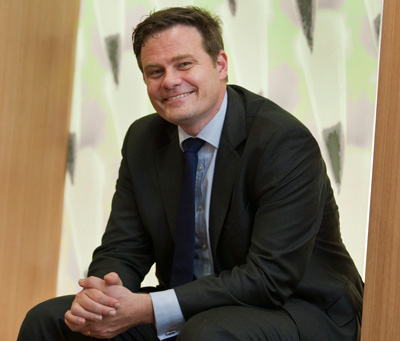 Biomedical engineer Professor Mark Kendall is gaining exposure to a global audience, joining people such as Bill Gates, Sir Richard Branson, Stephen Hawking and Bono in presenting a TED Global talk.
The Australian Institute for Bioengineering and Nanotechnology (AIBN) researcher, based at The University of Queensland, delivered the talk on his vaccine delivery device the Nanopatch.
The video of the presentation, delivered to a select audience at TED Global 2013 in Edinburgh, Scotland in June, has been uploaded on the TED Global website, where similar talks have been viewed millions of times.
Prof Kendall was the only presenter from Australia, speaking to an audience of about 1000 people and a select group of luminaries worldwide.
The presentation was made only 1km from the site where the needle and syringe were developed in 1853.
Prof Kendall's research group is developing the Nanopatch to deliver a dry-coated vaccine into the skin, achieving protective immune responses in animal models with doses up to 100 times smaller than required for a needle and syringe.
"The needle and syringe were invented in Edinburgh in 1853 and the technology has not greatly changed to this day. Most vaccines are delivered this way. I am hoping to change that," Prof Kendall said.
"Because less vaccine is needed for Nanopatch delivery, it could make an expensive vaccine more viable to distribute in the developing world.
"Another advantage is that vaccines are dry-coated on to the Nanopatch, so they may not need to be refrigerated while being transported to remote, inaccessible and developing communities."
Prof Kendall said the TED Global presentation would introduce a broad, international audience to the technology developed in his AIBN lab and advanced through spin-out company Vaxxas towards clinical testing and product development.
"It is significant to be invited to present at TED Global, given the large, international audience and the calibre of fellow presenters," he said.
Prof Kendall sees tremendous potential to use the Nanopatch to improve many vaccines, including those protecting against influenza and human papillomavirus.
Using the slogan Ideas Worth Spreading, TED Global presentations bring together the world's most fascinating thinkers and challenges them to present talks in 18 minutes or less.
More than 1500 TED Talks are available online and have been watched a combined total of more than one billion times worldwide, with a Stephen Hawkins video recording more than 3.7 million views and another from Sir Ken Robinson more than 4.9 million.
They address topics within the research and practice of science and culture, often through storytelling.