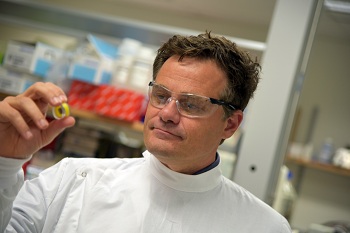 A University of Queensland (UQ) researcher has been awarded one of Australia's highest science honours for his achievements in a career that spans rocket technology to biomedical engineering.
Australian Institute for Bioengineering and Nanotechnology (AIBN) researcher Professor Mark Kendall – most renowned for his invention of the Nanopatch, a needle-free vaccine delivery device – has been awarded the 2016 CSL Young Florey Medal by the Australian Institute of Policy and Science (AIPS).
The CSL Young Florey Medal is awarded to outstanding scientists for significant early career achievements in biomedical science and/or human health advancement, and who have shown excellence and passion in promoting science. The award is named in honour of penicillin co-inventor Sir Howard Florey, who in 1945 became Australia's first Nobel Laureate in Medicine.
"Sir Howard Florey was a hugely inspiring individual. What he accomplished is scientific folklore, so it is very humbling and a great honour to receive this award," Professor Kendall said.
"Interestingly, earlier in my career when I was at Oxford University, I was fortunate to spend time working in the very same building as he once had. So this award is particularly meaningful to me."
After studying a PhD in hypervelocity aerodynamics at UQ, Professor Kendall's career took an unlikely twist.
"I was seemingly not destined to do medicine at all, instead I was encouraged to join Oxford University to work on using aerodynamic principles to fire vaccines into the skin," he said.
This work, which Professor Kendall undertook with others at Oxford, led to the development of the 'Gene Gun', which can be described as a hand-held rocket that uses hypervelocity aerodynamics for the ballistic delivery of vaccine-coated micro-particles into the skin, leading to an improved immunological effect.
Professor Kendall then left Oxford University to return to UQ in 2006, joining AIBN to work on a different concept of using the skin's immune-rich cellular environment as a vaccine delivery target.
"I was eager to overcome one of the biggest challenges of the gene gun, which was making it practical for mass vaccination in developing areas of the world. It was too expensive and too complex for field use in low-resource regions to achieve mass vaccination," he said.
"To resolve this, I mapped the skin's immune system and designed a device from the ground-up that targets immune-rich cells in the skin using microscopic projections. This became the Nanopatch."
To create the Nanopatch, Professor Kendall, with his team and collaborators, concurrently explored fundamental science at the interface of engineering, chemistry, biomaterials and immunology.
"Although I'm a trained engineer, my eye was constantly on the biological problem of proving the value of the Nanopatch – does it make vaccines work better than a needle and syringe?"
When studies in animals proved the device was effective, achieving equivalent immune responses as the needle and syringe but using lower doses of vaccine, Professor Kendall took another significant innovation step, founding Vaxxas Pty Ltd in 2011. Professor Kendall played a key role in building the company, and advancing the Nanopatch technology towards the ultimate goal of use for widespread vaccination.
The Nanopatch is currently undergoing clinical trials, and is also being tested in collaboration with the World Health Organisation for vaccination against poliovirus.
AIPS General Manager Ms Camille Thomson congratulated Professor Kendall, and said his research had the potential to improve the health of millions of people worldwide.
"Mark Kendall could transform vaccination, just as Florey transformed the treatment of bacterial diseases," Ms Thomson said.
Two UQ researchers have previously won the CSL Florey Medal, which recognises lifetime achievement in biomedical science: Professor Ian Frazer in 2006 for his work on the Gardasil cervical cancer vaccine, and Professor Perry Bartlett in 2015 for his ground-breaking discoveries in neuroscience.
Nanopatch research is part of a suite of advanced health projects currently underway at AIBN to deliver improved health outcomes for society.
Media: Darius Koreis, d.koreis@uq.edu.au, +61 7 3346 3962, +61 427 148 187.