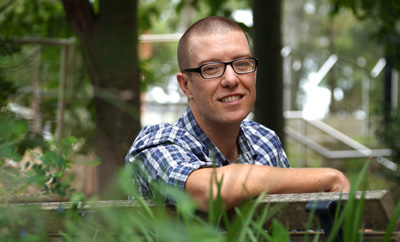 Chemical engineer Dr Simon Corrie has been recognised for scientific excellence with a 2013 Queensland Young Tall Poppy Science Award.
The award recognises Dr Corrie's work at the Australian Institute for Bioengineering and Nanotechnology, based at The University of Queensland, in developing new devices for medical diagnostics.
He aims to combine materials chemistry with molecular biology to create an affordable and widely-available device which can test blood faster, without a need for needles and syringes.
Dr Corrie aims to prove that thousands of microscopic projections on a small polymer wafer can be used to quickly detect biomarkers which point to the presence of infectious diseases such as dengue fever and malaria.
The device will be designed to sit on the skin, draw in fluids to react with antibodies and reporter probes and turn a particular colour, similar to a litmus test, if biomarkers are present.
"Diagnosis and disease monitoring is crucial to successful treatment, especially where a patient's symptoms do not easily identify the cause," Dr Corrie said.
"Combining multi-step blood tests into a simple skin patch that anyone can use would make diagnosis and treatment monitoring more widely available to people without exclusive reliance on hospital labs and highly trained technicians and clinicians."
Dr Corrie said it was an honour to be recognised for the work he was doing in the lab of Prof Mark Kendall.
"It is an honour – and a credit to the scientists, students and research assistants who have worked with me," he said.
"I definitely hope to use the award to take our work to schools and other public forums to talk about our research and get young people interested in science and technology.
"I look forward to the general public seeing some of the technology innovation that is being developed here in Queensland."
The Australian Institute of Policy and Science created the Tall Poppy Campaign to recognise and celebrate Australian intellectual and scientific excellence and to encourage younger Australians to follow in the footsteps of the nation's outstanding achievers.
Young Tall Poppy Science Awards recipients are encouraged to promote study and careers in science among school students and teachers as well as an understanding and appreciation of science in the broader community.
Dr Corrie said he hoped to advance his devices for medical diagnostics to human trials within five years, ahead of commercialising the technology for use around Australia.