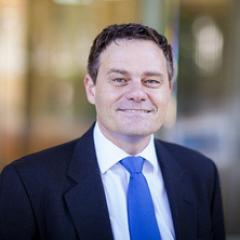 The University of Queensland's Australian Institute for Bioengineering and Nanotechnology (AIBN) is proud to announce that Professor Mark Kendall has been elected as a Fellow of the Australian Academy of Technological Sciences and Engineering (ATSE).
ATSE is an independent body of more than 800 Australian scientists and engineers seeking to enhance Australia's prosperity through technological innovation. These Fellows — who are drawn from academia, government, industry and research — are some of Australia's leading figures in their fields. They are key business leaders and academics, commercial innovators, business leaders and respected public sector figures. 
Professor Kendall is one of 25 Fellows to be elected this year.
"It is humbling to be supported and acknowledged with this honour," said Professor Kendall.
 "ATSE is a really important body that advocates nationally with the government and key parts of industry about all aspects of engineering and technology," he explained. "[Election] is a recognition of a career, which spans twenty years, so far."
He said that ATSE's unique cross-section of experts facilitates collaboration and innovation, and joining them will enable him to contribute to improving the way we work across different fields and sectors, and find new ways to take ideas forward and make real impact.
"As a Fellow I also am following in the footsteps of other AIBN Fellows – Professor Peter Gray, Professor Max Lu and Professor Anton Middelberg – all of whom have set a high bar.  I will strive to meet this bar by engaging with ATSE to help shape innovation in Australia."
Media: communications@aibn.uq.edu.au ; Professor Mark Kendall, m.kendall@uq.edu.au , +61 7 334 64203