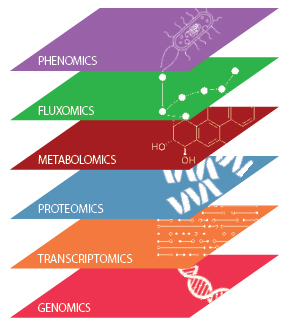 Bioplatforms Australia builds research capabilities and expertise in the specialist fields of genomics, proteomics, metabolomics and bioinformatics.
BPA enables Australian life science research by investing in state-of-the-art infrastructure and projects that build 'omic datasets relevant to Australian scientific challenges.
The Queensland nodes of Metabolomics and Proteomics are housed at The University of Queensland's Australian Institute for Bioengineering and Nanotechnology.
The Queensland Node of Metabolomics Australia
Metabolomics Australia offers services to all science researchers in academia and industry. We combine high-throughput analytical technologies for the detection and quantification of metabolites
in biological systems with the application of bioinformatics tools for data analysis, mining and interpretation.
Metabolomics Services
Targeted/Quantitative
LCMS Absolute quantitation of central carbon metabolites, vitamins, short-chain fatty acids, nucleotides/nucleosides.
UHPLC: Amino acids, organic acids, sugars, short chain fatty acids, terpenoids, aromatic compounds.
GC-MS: Target metabolites or metabolite classes are analysed quantitatively relative to
authentic standards providing absolute concentration of each metabolite per fresh weight
of material.
Untargeted
GC-MS (semi-quantitative): Identification of organic acids, fatty acids, sterols, amino acids,
sugars, sugar phosphates/alcohols, hydrocarbons, terpenes.
Data analysis
Data processing workflows
We combine complementary analytical and informatics platforms to detect the response of metabolites to genetic and environmental stimuli.
Our node specialises in servicing the industrial biotechnology sector
The Queensland Node of Proteomics Australia
The Queensland Node of Proteomics Australia offers high throughput quantitative proteomics services to all life science researchers. Services are offered through a consortium of Australian universities and research institutes with world class facilities.
Proteomics Services
Sample Preparation
Automated Sample preparation
Protein Identification
By Data Dependant Analysis
Protein quantification
By Data Dependent Analysis
By Data Independent Analysis
By Isobaric Tag Analysis
Protein modification Analysis
By phosphorylation, Γ carboxylation
Data analysis
Data processing workflows
Our New ThermoFisher Q-Exactive HF-X offers a new standard in sensitivity, performance and productivity.
Systems Biology
The "4th generation of biotechnology" is concerned with understanding and manipulating cellular behaviour at a system level. Dedicated data science and bioinformatics services that offer data processing to enable the use of 'omics to understand complex links between genotype and phenotype.
Systems Biology Services
Our service facilitates a variety of metabolic engineering applications in model and non-model organisms through:
Modelling
Modelling and analysis of small to large data sets
Identification of metabolically optimal pathways for targeted products
Molecular phenomics
Phenotype prediction through stoichiometric and kinetic modelling
Leveraging 'omics data to predict rate limiting metabolic reactions
Phenotypic characterization of high-performing mutant strains resulting from random mutagenesis or evolutionary approaches
Data Analysis
Data processing workflows
We provide systems biology platforms that can be used to answer a range of biological questions. Examples include phenotypic changes in response to a stimulus on a molecular level to strain engineering and design for industrial biotechnology applications.
Integration of multiomics data using metabolic modelling.