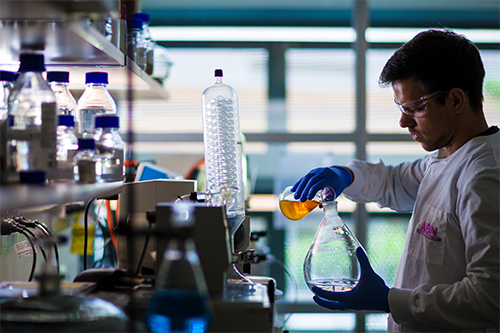 Studies into better diagnostic imaging for one of the most aggressive forms of brain cancer have attracted $200,000 for a University of Queensland researcher.
UQ's Australian Institute for Bioengineering and Nanotechnology Dr Simon Puttick received the funds from the Cure Brain Cancer Foundation to lead new, innovative research for the diagnosis and treatment of glioma.
Gliomas are an aggressive type of tumour that start in the brain or spine and arise from glial cells, located in the central nervous system.
"The treatment options for glioma remain poor across the globe," Dr Puttick said. 
"Despite the lower incidence rate, gliomas kill as many people in Australia as melanoma." 
Dr Puttick said the average survival time for patients after glioma diagnosis was just 12 months.
"Current MRI technology used for treatment planning in glioma patients is unable to detect invasive pockets of the tumour or tell us how effective the treatment is," he said.
"Both of these pieces of information are vital for stopping the spread of this aggressive form of cancer."
Dr Puttick is developing molecular imaging approaches, which will help with the early detection of glioma and allow experts to plan better treatment methods. 
"The focus of this project is to engineer proteins, based on fragments of an antibody, which will bind to the EphA2 receptor - a protein that is present in very high levels on the surface of glioma cells," Dr Puttick said.
"The newly engineered protein will be used as an imaging agent, in combination with current MRI technology, to provide maps of potential treatment options for glioma patients."
Dr Puttick is a Research Fellow in Molecular Imaging in AIBN Professor Andrew Whittaker's group.
Dr Puttick will work in collaboration with partner investigators including Associate Professor Stephen Rose from CSIRO and UQ, Professor Andrew Whittaker and Dr Kristofer Thurecht from UQ's AIBN and the Centre for Advanced Imaging, Associate Professor Stephen Mahler from AIBN, Dr Michael Fay from Genesis Cancer Care, and Professor Andrew Boyd, Dr Brett Stringer and Dr Bryan Day from QIMR Berghofer Medical Research Institute.