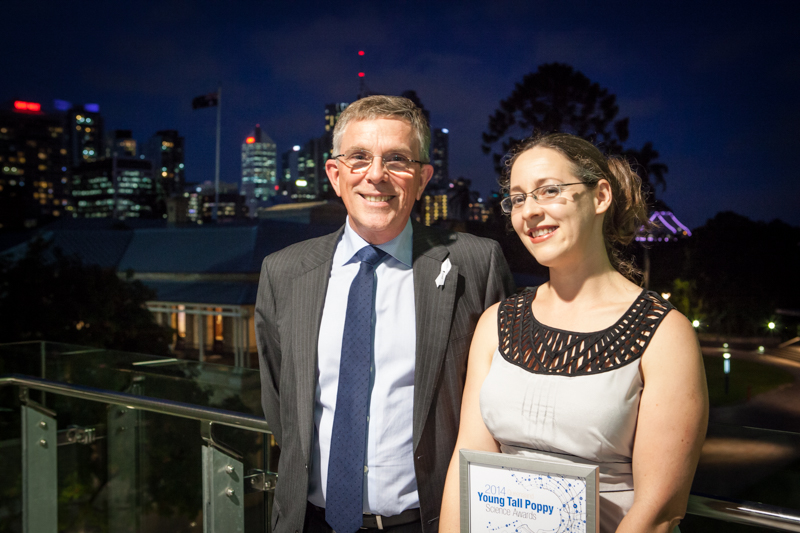 University of Queensland synthetic biologist Claudia Vickers has been recognised for scientific excellence with a 2014 Queensland Young Tall Poppy Science Award.
Working at UQ's Australian Institute for Bioengineering and Nanotechnology, Dr Claudia Vickers' research is focussed on using biology to replace current industrial practices with sustainable, environmentally friendly approaches. 
Dr Vickers works with tiny living cells, like baker's yeast and harmless bacteria.
"I re-design them so they make biochemicals that have similar properties to the petrochemicals we use every day," Dr Vickers said.
"We're using these cells to turn cane sugar into sustainable replacements for jet fuel, rubbers and plastics. We can also make pharmaceuticals, flavours, fragrances and agricultural chemicals."
Dr Vickers' award celebrates Australian intellectual and scientific excellence. The program encourages younger Australians to follow in the footsteps of our outstanding achievers.
The annual Tall Poppy awards recognise young scientists who combine world-class research and leadership potential with a passionate commitment to communicating science. 
"It's critical to foster an interest in research science in the next generation. They will be the ones solving the big problems of the future" said Dr Vickers. 
The Young Tall Poppy Science Awards were announced at the 2014 Science Celebration ceremony last night by Queensland Science Minister Ian Walker and Queensland Chief Scientist Dr Geoff Garrett AO.
Science Minister Ian Walker said science was an area where the best and brightest could change people's lives.
"We have some very impressive young scientists making their way up the ranks in Queensland and the work they are doing will have a huge impact on our future."
The Tall Poppy Campaign was created in 1998 by the Australian Institute of Policy and Science.
Watch a short video on Dr Vickers' work here.