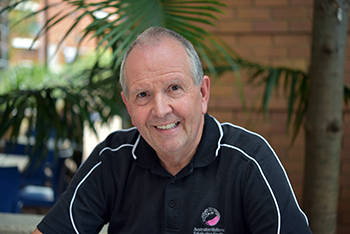 The Australian Institute for Bioengineering and Nanotechnology has farewelled a 42-year veteran of The University of Queensland.
Mr Derek Hirons, Facility Manager of the Queensland Node of the NCRIS Australian National Fabrication Facility (ANFF-Q) housed at AIBN, has retired after serving UQ continuously since 1974.
"I have really enjoyed my time at UQ, and I've never wanted to work anywhere else. It's been very rewarding and satisfying to work in an environment where I have had a variety of roles that provided me with diverse opportunities to use and develop my skills," Mr Hirons said.
Mr Hirons had been at ANFF-Q since 2008, and previously worked at UQ's Department of Chemistry and the School of Molecular and Microbial Sciences. His proudest achievements included initiating the UQ Chemistry building refurbishment and establishing ANFF-Q.
"With ANFF-Q, we started with a blank sheet. Just two rooms and some laboratory space, and a remit to set-up the facility from scratch. Getting it started – sourcing the personnel and equipment, followed by operating it – was a welcome challenge," he said.
"One of the things I have liked most about ANFF-Q is that it is an open access facility, available to clients who are both internal and external to the University. This made it a very dynamic and interesting place to work."
As a Commissioner for Declarations, Mr Hirons has also been a trusted and reliable face for many staff and students across the Institute and University more broadly.
"I've always wanted to help people, and it is something that I have done for many decades," he said.
"There aren't very many people left that were here when I started. But over time, is has been heartwarming to see new people start out and progress up the ladder in their respective careers."
AIBN Director Professor Alan Rowan thanked Mr Hirons for his service to the Institute, and acknowledged his dedication.
"Derek has provided endless support for people at this institution on a professional and personal level for decades, and we are truly grateful for his contribution," Professor Rowan said.
"He deserves significant credit for the establishment and ongoing success of ANFF-Q, which is a valued facility for AIBN, UQ and the broader research community. His leadership and management have been second to none, and we wish him all the best for a well-earned retirement."
Mr Hirons now looks forward to enjoying the new opportunities that retirement offers, including a holiday abroad.
"I left England in 1973, and my wife left in 1966, and neither of us have been back since then. So it will be interesting to go back, see how it's changed, as well as travel to some parts of the United Kingdom that we've never seen before."
UQ provides many opportunities for those searching for a rewarding career. Careers at AIBN offer the opportunity to work in a multidisciplinary environment, at the leading edge of technological innovation for the benefit of society.
Media: Darius Koreis, d.koreis@uq.edu.au, +61 7 3346 3962, +61 427 148 187.