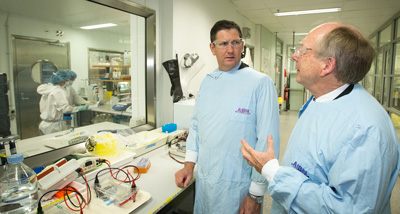 Researchers at Australian Institute for Bioengineering and Nanotechnology (AIBN) are part of a major step in proving the safety of the only known effective treatment for humans exposed to Hendra virus.
A joint grant of $1.2 million from the Queensland and NSW governments will fund a clinical trial of a human monoclonal antibody capable of neutralising Hendra virus.
Queensland Health Minister Lawrence Springborg, Queensland Minister for Agriculture Dr John McVeigh and NSW Minister for Primary Industries Katrina Hodgkinson announced the funding at The University of Queensland today.
The antibody for the trial was developed through a long-standing association between Australian researcher and the US laboratories of Professor Christopher Broder at the Uniformed Services University of the Health Sciences and Dr Dimiter Dimitrov of the National Cancer Institute, National Institute of Health.
Queensland Health gained access to the cell line producing the antibody, which was provided to researchers at AIBN, based at UQ.
The researchers have been providing the antibody to Dr Geoffrey Playford at Princess Alexandra Hospital for use on compassionate grounds.
AIBN Director Professor Peter Gray said the antibody was a biologic medicine manufactured at the institute's National Biologics Facility using a production process developed at AIBN.
"Biologics are medicines based on natural proteins made using recombinant DNA technology with the potential to target medical conditions for which there are no other treatments," Professor Gray said.
The Phase I clinical trial is planned for early 2014 upon approval from a Human Research Ethics Committee and in compliance with National Health and Medical Research Council guidelines.
The US is also interested in the results of the clinical trial as Hendra virus is similar to the Nipah virus which can cause death and severe illness in people and animals.
Nipah virus is regularly found in humans in Bangladesh and India.
Mr Springborg said: "This world-first trial will test the monoclonal antibody in a small group of people for the first time to evaluate its safety, determine a safe dosage range and identify any side effects."
"There are many organisations involved in Hendra virus research and treatment as it's a problem that knows no borders," he said.
"This is a collaboration between groups in Queensland, NSW and the US to develop a new medicine that could save lives in the event of a Hendra virus incident in Australia.
"Funding for the trial was drawn from $9 million provided for Hendra virus research from the Queensland, NSW and Commonwealth governments National Hendra Virus Research Program, which all contributed $3 million each for Hendra virus research.
"The Commonwealth Government also provided a separate $400,000 National Health and Medical Research Council grant to the University of Queensland."
Ms Hodgkinson said this research was a significant step forward in combating a deadly virus.
"This work is globally significant and, along with advancements in horse vaccine development, is critical in our future control strategies," she said.
"The NSW Government is pleased to be able to team up with our Queensland and Commonwealth counterparts to help develop scientific solutions to tackle Hendra virus, which has caused so much concern to our communities over many years.
"This project, combined with others funded through the Hendra Virus Taskforce, brings together leading researchers from NSW, Queensland, Victoria and the USA to tackle this deadly virus."
For Hendra virus information, visit www.dpi.qld.gov.au/4790_2900.htm.