AIBN Professor Trent Munro is part of a push to develop, test and manufacture specific therapeutics in Australia, including for use against COVID-19.
Professor Munro is leading a University of Queensland team producing the potent antibodies and ensuring they are suitable for large-scale manufacturing, pre-clinical testing and ultimately medical treatment.
He said the project was built on the discovery of the antibodies at the Walter and Eliza Hall Institute of Medical Research (WEHI) and the Peter Doherty Institute (PDI) in Melbourne.
"The antibodies show promise in preventing COVID-19 infection because they block the entry of the virus into cells," Professor Munro said.
"We now need to conduct further testing to ensure they are safe, effective and free of serious side effects."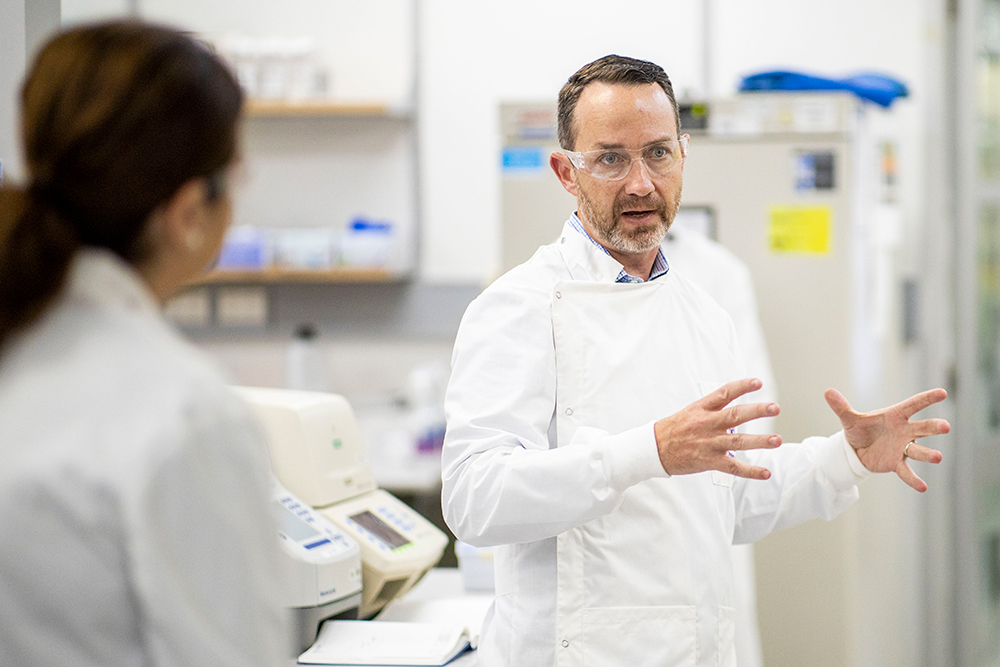 The research has been boosted with $5 million in support from the Federal Government's Medical Research Future Fund (MRFF), enabling continued collaboration with WEHI and the Doherty Institute.
Professor Munro's team will focus on antibody production and characterisation using specialist capabilities at the National Biologics Facility (NBF) at AIBN.
It involves partnering with the CSIRO to enable production of antibodies for clinical trials and providing them for pre-clinical testing.
"The NBF is uniquely suited to conduct this development and manufacturing," Professor Munro said.
"The fact that we can develop, test and manufacture these antibodies, right here in Australia is a model of how we can advance research translation."
Antibody-based therapies are used to treat several infectious diseases, as well as cancer and autoimmune diseases such as rheumatoid arthritis and multiple sclerosis.
The antibodies blind to certain cells or proteins, such as the spike protein in COVID-19, mimicking what occurs as part of a robust immune response.
The NBF in a National Collaborative Research Infrastructure Strategy (NCRIS) facility funded by Therapeutic Innovation Australia (TIA) and UQ.
Media: Erik de Wit, e.dewit@uq.edu.au, +61 447 305 979