Precision painkillers that are more accurate and less harmful to the liver are set to be developed by a University of Queensland spin-off company, and could change the lives of millions of people.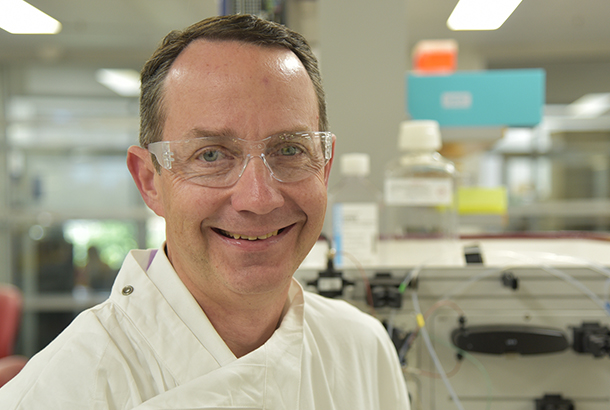 Professor Trent Munro, from the Australian Institute for Bioengineering and Nanotechnology (AIBN), is the scientific co-founder of Cassowary Pharmaceuticals Pty Ltd which is creating a new range of hyper-targeted pain medications.
Professor Munro said the drugs would help treat debilitating and chronic pain conditions associated with cancer, sciatica, post-herpetic neuralgia (a painful condition that can follow shingles), peripheral nerve injury and osteoarthritis.
"This type of targeted therapy reduces the potential side effects and safety issues associated with current pain treatments, and will also mean fewer doses are required," Professor Munro said.
"Creating drugs with these attributes could change the lives of millions of people who suffer from chronic neuropathic pain."
Professor Munro said while up to 10 per cent of the adult population were affected by neuropathic pain, current treatments often presented problems. 
"Many existing treatments are ineffective in a large number of patients, and carry significant risk of side-effects, including addiction," he said.
Cassowary Pharma's drug candidate targets a molecule thought to be important in how the human body senses pain.
"By building on the pioneering discoveries of Emeritus Professor Maree Smith, and using the critical tools developed in the laboratory of UQ's Professor Greg Monteith, we can create a drug that is very accurate, avoids the risk of liver toxicity, and lessens the overall medication load," Professor Munro said.
After receiving funding from the Medical Research Future Fund's (MRFF) national $40 million CUREator Scheme, Cassowary Pharma anticipates identifying a lead candidate over the next 18 months as a stepping stone to clinical trials.
Professor Munro said shaping Cassowary Pharma's goals was a collaborative effort, involving Dr Lucia Zacchi of the School of Chemistry and Molecular Bioscience and AIBN's Dr Martina Jones.
It was one of four UQ start-ups to receive funding earlier this year, which are each working to find new treatments for a diverse range of hard-to-treat conditions.
UQ's commercialisation company UniQuest CEO Dr Dean Moss congratulated Cassowary Pharma and said the funding recognised the leadership role that UQ plays in technology transfer and commercialisation.
"I am always excited to acknowledge how innovative research excellence from UQ's institutes, faculties and schools is translated into real-world impact," Dr Moss said.
New hopes for a pain-free future: Roderick's story
An accumulation of injuries, aggravations, and complications over 56 years means Roderick Jones is rarely without pain, taking 19 different medications over the course of a week.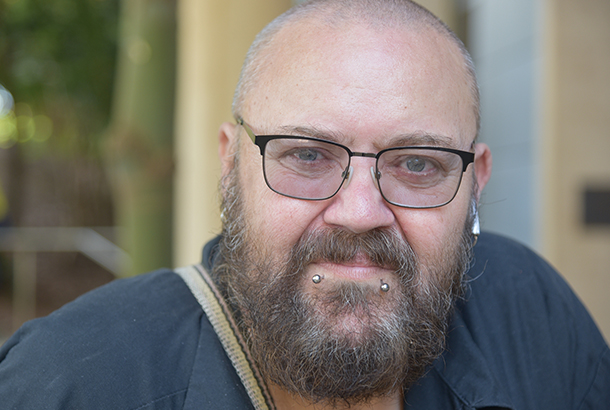 But thanks to the early work of The University of Queensland startup Cassowary Pharma, and the promise of more effective, targeted pain relief, the Brisbane man has his biggest cause for hope since injuring his back in 1999.
Roderick says the progress of Cassowary Pharma, and the vision set out by the company's scientific co-founder, Australian Institute for Bioengineering and Nanotechnology Industry Professor Trent Munro, had given him and other chronic pain patients a reason to believe in a healthier, more comfortable future, minus the mental and emotional impacts of a heavy medication load.
"What Cassowary Pharma is doing – the hyper-targeted relief – it is about more than easing pain," Roderick says.
"It is also giving people like me hope that we can wean ourselves off the heavy painkillers and opioids and start to live more normal, fulfilling lives.
"It could be lifechanging."
Roderick badly damaged his back lifting bags of flour more than 20 years ago and has since also acquired a hyperextended knee, fractured foot, some broken ribs and severe scarring on his bladder.
Roderick's hands and shoulders shake with arthritis and nerve pain, while his diabetes causes circulation issues, and a cardiac arrest in 2014 left him with just 30 per cent heart function.
He needs a cane to move around, he requires help showering and he cannot sit still for very long.
From the floating piece of bone in his spine to the tingling numbness in his feet, each day is an exercise of endurance for Roderick, who often jokes his list of injuries is only topped by the number of medications needed to keep him going. 
"Sometimes I do feel like a walking pharmacy, taking 19 different medications over the course of a week," he says.
As part of a strict regime of mental and physical therapy, Roderick requires a regular dosage of powerful prescription drugs.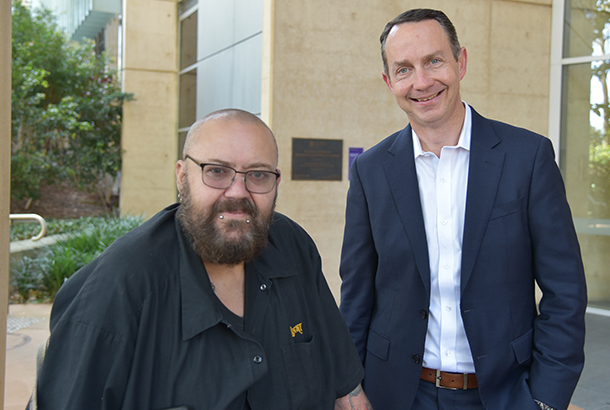 Occasionally Roderick manages to find the sweet spot between pain and medicated relief and he can enjoy time with his family, fishing, going for drives and flying his drone.
Often though, he is left frustrated by how listless, distant, and forgetful his medication can make him.  
Roderick says, learning about the work being done by Cassowary Pharma has given him hope.
While the company is in its infancy, Roderick says the promise of more effective, targeted relief for himself and others suffering debilitating pain could be lifechanging.
"The less drugs I take, the more I want to get out of bed, the more I want to go for a walk and do a bit of exercise. It would be safer for me to drive. I would be able to move more freely," he says.
"I can one day hope to get back into the workforce.
"Seeing what Cassowary Pharma is doing… that gives me hope. It gives me and others like me a reason to keep going."
Media: AIBN Communications, Alex Druce, a.druce@uq.edu.au, +61 (0)447 305 979; UQ Communications, communications@uq.edu.au, +61 (0)429 056 139.