The Importance of Diversity and Inclusive Leadership in Science and Innovation
Abstract
Solving the complex problems that we face in our world today requires a more talented workforce than we have ever needed before.  Such a workforce must be comprised of a wide range of diverse talents and creative insights.  No segment of the population can be ignored or overlooked in this talent search.  This presentation will describe the most recent research that demonstrates the positive impact that social and informational diversity has on science and innovation, the reasons for this impact and the importance of committed leadership in achieving a strong and inclusive workplace where creativity and productivity is maximized.
Bio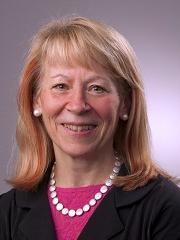 Geri Richmond is the Presidential Chair in Science and Professor of Chemistry at the University of Oregon. She is the founding and current director of COACh, a grass-roots organization formed in 1998 that has helped in the career advancement of over 20,000 scientists and engineers in the U.S., Asia, Africa and Latin America.
Awards for her scientific accomplishments include the National Medal of Science from President Obama, the American Chemical Society (ACS) Olin-Garvan Medal, the ACS Joel H. Hildebrand Award, and the American Physical Society Davisson-Germer Prize. Awards for her education, outreach and science capacity building efforts include the Presidential Award for Excellence in Science, Mathematics and Engineering Mentoring, the ACS Award for Encouraging Women in the Chemical Sciences and the  ACS Charles L. Parsons Award.
She has served in leadership roles on numerous journal editorial boards and many international, national and state governing and advisory boards. Richmond recently finished her term as President of AAAS, and is also currently serving as a member of the National Science Board (President Obama appointee) and the U.S. Science Envoy to the Lower Mekong River Countries of Vietnam, Laos, Cambodia, Burma and Thailand (Secretary Kerry appointee).
Her research using laser spectroscopy and computational methods focusses on understanding environmentally and technologically important processes that occur at water, semiconductor and mineral surfaces. Richmond is a member of the U.S. National Academy of Sciences, the American Academy of Arts and Sciences and is a Fellow of the American Chemical Society (ACS), the American Physical Society (APS), the Association for the Advancement of Science (AAAS) and the Association for Women in Science.