AIBN-RACI Virtual Seminar Series: Biomaterials as Synthetic Extracellular Matrices: Biology in the Fourth Dimension
30 September 2020

9:00am

–

10:00am
We are pleased to host a special guest speaker as part of the AIBN Virtual Seminar Series. Distinguished Professor Dr Kristi Anseth from the BioFrontiers Institute at the Unversity of Colorado will discuss Biomaterials as Synthetic Extracellular Matrices: Biology in the Fourth Dimension. Please take this opportunity and join us virtually.
Date: Wednesday, 30 September
Time: 9am - 10am (AEST)
Venue: Online Via Zoom
The seminar is free, but registration is essential. To register please click here.
Abstract
My research group is interested in the development of polymeric biomaterials that can interface with cells and promote tissue regeneration and repair.  From a fundamental perspective, we seek to decipher the critical extracellular matrix (ECM) signals that are relevant for tissue development, regeneration, and disease and then design materials that integrate these signals.  From an applied perspective, we use this knowledge to engineer materials that can promote tissue regeneration and wound healing in vivo.  This talk will illustrate our recent efforts towards the synthesis of new hydrogel chemistries for 4D cell culture and regenerative medicine, and how one can dynamically control biochemical and biophysical properties through orthogonal, photochemical click reaction mechanisms.  Some specific examples will include the design of hydrogels that promote musculoskeletal tissue regeneration, super-swelling matrices to visualize cell-matrix interactions with unprecedented resolution, and materials-directed growth of an organoid from a single stem cell.  These efforts will then be placed in the context of designing precision biomaterials to address demands for patient specific products and treatments. 
Bio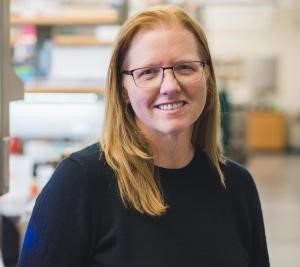 Kristi Anseth is a Professor of Chemical and Biological Engineering and Associate Faculty Director of the BioFrontiers Institute at the University of Colorado at Boulder. She currently holds the Tisone Professorship and is a Distinguished Professor. Dr. Anseth came to CU-Boulder after earning her B.S. degree from Purdue University, her Ph.D. degree from the University of Colorado, and completing post-doctoral research at MIT as an NIH fellow. Her research interests lie at the interface between biology and engineering where she designs new biomaterials for applications in drug delivery and regenerative medicine. Dr. Anseth's research group has published over 350 peer-reviewed manuscripts, and she has trained more than 110 graduate students and postdoctoral associates. She is an elected member of the National Academy of Engineering (2009), the National Academy of Medicine (2009), the National Academy of Sciences (2013), the National Academy of Inventors (2016) and the American Academy of Arts and Sciences (2019).  Most recently, she received the L'Oreal-UNESCO for Women in Science Award in the Life Sciences (2020).  Dr. Anseth has served on the Board of Directors and as President of the Materials Research Society, the Board of Governors for Acta Materialia, Inc, the NIH Advisory Council for NIBIB, and as Chair of the NAE US Frontiers of Engineering meetings.
Don't wait to register. Register today to avoid missing your chance to tune in!
About AIBN Seminar Series
The AIBN Seminar series showcases a range of seminars across different topics and disciplines