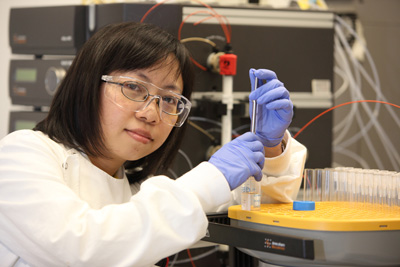 Australian Institute for Bioengineering and Nanotechnology's Dr Nani Wibowo has been recognised as an up-and-coming vaccine researcher with a place in journal Vaccine's Young Investigator Program.
A chemical engineer based at The University of Queensland, Dr Wibowo is one of 10 early career researchers from around the world chosen for the program's first intake.
"I have a strong desire for a career in vaccinology and believe the program will provide opportunities for me to take steps in that direction," she said.
Dr Wibowo is developing virus-like particles (VLPs) and their sub-units, capsomeres, in Prof Anton Middelberg's AIBN labs, for use as rapidly-manufactured and low-cost vaccines.
The work involves using bacteria to produce capsomeres and VLPs to accurately resemble the shells of a virus without containing the genetic material, so they can elicit an immune response but are inherently safe.
Dr Wibowo's work has the potential to address emergent diseases more efficiently than present vaccination technology because VLPS can be made and scaled up quickly.
She said it was important for researchers from a multitude of scientific disciplines to work together on vaccine development, including vaccinologists, immunologists, chemical engineers, bioengineers, chemists, biomolecular engineers and computational scientists.
"Being chosen for the Young Investigator Program is an acknowledgement that engineers make a valuable contribution toward vaccine development," Dr Wibowo said.
"It is also an opportunity to build a network within the vaccine community which may lead to opportunities for collaborative research and funding avenues."
The program guides promising early career researchers in vaccinology through direct contact with Vaccine editors, providing help with manuscript preparation and submission.
The program involves the Edward Jenner Vaccine Society and offers young researchers the opportunity to talk to vaccinology experts through regular webinars. "Vaccine is a top journal in vaccinology. Having a review article in Vaccine will be a career boost for me in term of publication," Dr Wibowo said.
Selection for the program was the biggest achievement of her research career so far and validated her decision to enter the field, she said.
"I entered research because I wanted to make a difference. I could see how important safe, effective and rapidly-manufactured vaccines are to people around the world."
For more information about the program visit www.journals.elsevier.com/vaccine