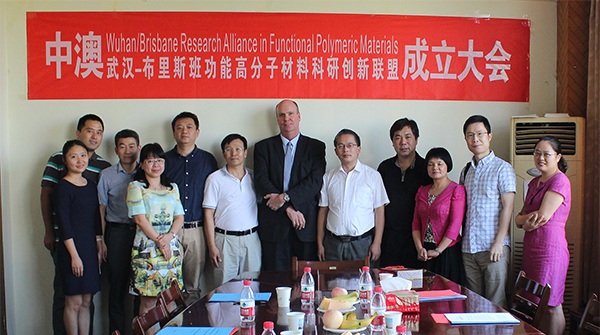 The Australian Institute for Bioengineering and Nanotechnology at The University of Queensland will lead the Brisbane node of the Wuhan/Brisbane Research Alliance in Functional Polymeric Materials.
AIBN Group Leader Professor Andrew Whittakerwill manage the Brisbane node of the alliance, which partners with the leading universities of the Chinese city of Wuhan in the province of Hubei.
"There are strong scientific links between both cities in the fields of materials science and biomedical research," Professor Whittaker said.
"Our partners in Wuhan have a number of advanced programs in biomedical imaging and nanomedicine, whereas we have leading capabilities technically. There is strong mutual benefit for the members of the alliance.
"The alliance arose out of the need for a mechanism to exchange students and hopefully research staff, and to provide a mechanism for applying to joint-research funding schemes with Chinese and Australian government bodies."
The city of Wuhan includes innovative economic and technological development zones, such as Optics Valley and Biolake, which play a significant role in driving the economy of the city of more than 10 million people.
Professor Whittaker has travelled to Wuhan for the last four years in his role as a visiting Professor at Hubei University, and has received students and staff from that university into his laboratories.
"I was very keen to develop a more inclusive network, and not just include the scientific capabilities of UQ, but Brisbane more broadly, and combining that with the leading institutions in Wuhan," he said.
Together with AIBN, the partnership domestically includes the Queensland University of Technology's Professor Steven Bottle and a number of his colleagues.
Research by the partnering organisations includes work into polymers for use in biomedicine, photolithography, and developing new energy materials.
Wuhan/Brisbane Research Alliance in Functional Polymeric Materials participants include:
Media: Darius Koreis, d.koreis@uq.edu.au, +61 7 3346 3962, +61 427 148 187; Professor Andrew Whittaker, a.whittaker@uq.edu.au, +61 7 3346 3885.