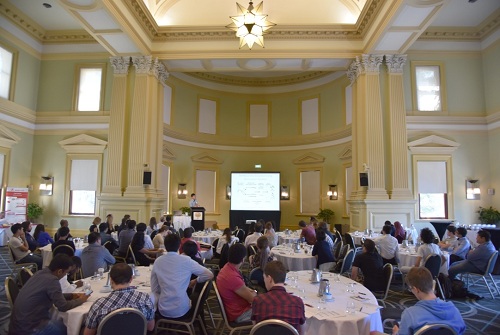 The annual Australian Institute for Bioengineering and Nanotechnology Student Conference has proven to be a successful platform to promote the work of students from the institute, and allow them to gain valuable experience.
AIBN Student Association President Mr Lewis Chambers said this year's conference, which was held at Customs House earlier in October, has drawn praise from both participants and attendees.
"We were really happy with how the conference ran, both in the quality of the presentations, and the diversity of the work presented," Mr Chambers said.
"Students need experiences like these to develop their skills for presenting to large academic and industry audiences."
Close to 40 students spoke on the day, with speakers divided between Oral and Digital Poster presentations and judges voted to select the best presenter for both categories.
Oral presentation winner Mr Benjamin Ng from the Trau Group was a standout for his talk on developing new ways to detect Tuberculosis, which claims the lives of around 1.5 million people annually.
"I'm working towards simple and rapid point-of-care tests that can be used as screening tools or for active case finding in vulnerable populations," Mr Ng said.
"I was thankful for the affirmation that I was able to demonstrate the relevance of developing point of care TB diagnostics in a global context," he said. 
"The conference created an excellent opportunity for AIBN PhD students to interact with and learn from each other, and presenting at a proper conference setting and getting feedback was also a good learning experience."
The Digital Poster award was claimed by Miss Athanasia Septevani from the Martin Group for her work on developing rigid polyurethane foam.
"My research is focussed on the use of natural oil polyol and also reinforcing it with biologically renewable cellulose nanocrystals to develop eco-friendly and high performance of rigid polyurethane foam," Miss Septevani said.
"Public speaking can be nerve-racking, and the conference was definitely a way to practice to calming my nerves and improve my presentation skills."
The AIBN Student Conference also gained corporate support from Bio-Rad Laboratories, Sarstedt and Genesearch.
Media: Darius Koreis, d.koreis@uq.edu.au, +61 7 3346 3962, +61 427 148 187.