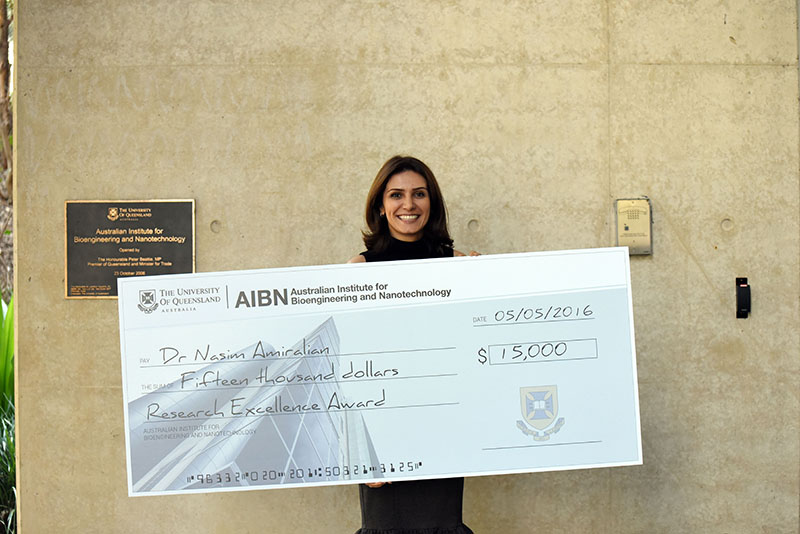 A recent PhD graduate from the Australian Institute for Bioengineering and Nanotechnology at The University of Queensland has seen her research recognised with multiple successes.
Dr Nasim Amiralian from AIBN's Martin Group was one of five AIBN researchers to receive an Advance Queensland Research Fellowship, and this success has been followed by a Research Excellence Award from the AIBN. 
Dr Amiralian emigrated from Iran to study a PhD with the AIBN, which she completed in 2014, and has since worked as a researcher at the Institute.
She was responsible for the discovery of spinifex nanofibers which can be used to sustainably improve the durability of materials such as latex and bitumen.
"I'm so happy with the direction my research has taken. It wouldn't happen without the support I've received during my time here from my supervisor Darren, and without AIBN's support – I'm so grateful," Dr Amiralian said.
Although her PhD project was primarily focussed on extracting and characterising the chemical, mechanical and thermal properties of a sticky resin produced by spinifex grasses, Dr Amiralian realised that she could also explore the extraction of cellulose nanofibres from the leaves of spinifex grass. 
She spent time learning everything she could about nanocellulose until she was able to test her theories. 
"Under the microscope it was evident that this white fibre looked incredible," she said.
"This nanocellulose has a different and unique morphology – it's naturally very thin and very long. Also the procedure we use to prepare it is very mild – it uses far lower mechanical energy compared to other cellulose nanofibers from alternative sources like wood."
After completing her PhD, Dr Amiralian secured two patents for the nanofibers and their application in elastomeric nanocomposites, and continued working on them as a researcher in the Martin Group at AIBN. 
In the future Dr Amiralian plans to become a university professor, but her short term goals for the award are more modest. 

"I would like to spend some money on a class to improve my presentation skills, and the rest to promote and develop my research."
Dr Amiralian's work is aligned with an AIBN research impact theme of utilising nanobiotechnology to develop sustainable solutions to the world's growing need for materials.
Her research is in collaboration with industry partners Derby Rubber and the Dugalunji Aboriginal Corporation.
AIBN is a strong supporter of women as leaders in science, and is committed to initiatives that support their development. 
Media: Darius Koreis, d.koreis@uq.edu.au, +61 7 3346 3962, +61 427 148 187.