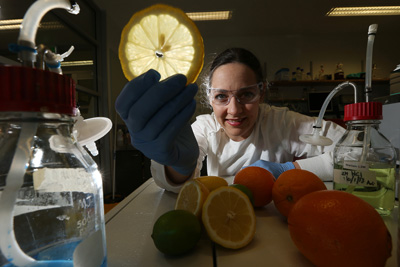 An Australian Institute for Bioengineering and Nanotechnology researcher hopes to use a chemical found in lemons and other citrus fruits to make clean, renewable jet fuel.
Dr Claudia Vickers is modifying baker's yeast to produce a synthetic form of the natural chemical limonene at AIBN, based at The University of Queensland.
"Limonene is a volatile chemical that is best known for contributing to the smell of citrus fruits," Dr Vickers said.
"It was first identified in turpentine oil in the late 1800s and is now used as a flavour and fragrance in foods, household cleaning products, and perfumes. It also holds promise as an anti-cancer agent."
Dr Vickers said the environmental benefits of using limonene as a fuel were particularly exciting.
"It might sound unlikely, but limonene one day could be a renewable, clean source of aviation fuel," she said.
"Fifty per cent of a 747's weight on take-off is its fuel.
"If you consider all the planes flying around in the world, that's a lot of fuel – and non-sustainable fossil resource carbon – being emitted in the atmosphere."
Limonene extracted from citrus peel had been used successfully as a jet fuel component in demonstration flights in the past.
"However, large-scale limonene production from citrus peel is impractical," Dr Vickers said.
"Producing it in yeast should provide a route to much greater yields of limonene which are easier to extract."
Limonene yields from the modified yeast are not yet high enough to be commercially viable, but Dr Vickers has plans to further modify the yeast for improved yields.
The same technology could be used to make a variety of other sustainable products from limonene, including rubbers, plastics, and paints.
Dr Vickers this month won a UQ Foundation Research Excellence Award for her work with lemons and yeast.
Her research into synthetic limonene builds on earlier Queensland Government-funded research at the AIBN, which demonstrated that sucrose from sugarcane is one of the best biofuel feedstocks available in the state.
The feasibility research had the backing of industry partners including Boeing, Virgin Australia, Mackay Sugar, IOR Energy and US biotech company Amyris.
Dr Vickers said that the research offered an exciting future for Queensland's sugar industry.
"Currently 80 per cent of Australian sugar is exported. Instead of exporting sugar, we could export value-added products worth much more – or use them to replace non-renewable products in our own domestic market."
"As the amount of easily-extractible fossil fuels decreases and the demand for alternatives to petrochemicals increases, these markets will become more and more important."
UQ Deputy Vice-Chancellor (Research) Professor Max Lu congratulated Dr Vickers during the award ceremony at Customs House.
"Chemicals derived from yeast can play a role in future-proofing the Queensland economy by capturing part of the $2 trillion global chemical market," Professor Lu said.
"Dr Vickers and her AIBN colleagues are opening doors to new technologies that are likely to have great benefits, environmentally and economically."
A United States Department of Agriculture report predicts "green chemicals" produced using biomass will represent 22 per cent of the chemical market by 2025.
A short video on Dr Vickers and her limonene research can be seen here