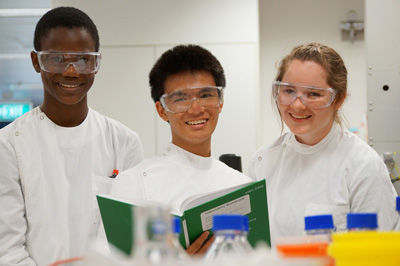 School students worked on multi-million dollar equipment and gained an insight into bioengineering concepts and nanoscale technology as part of a glimpse of life in a lab.
The 13 high school students spent four days at the Australian Institute for Bioengineering and Nanotechnology (AIBN), based at The University of Queensland in Brisbane, during their school holidays.
They came from Toowoomba, the Gold Coast, Logan and around Brisbane to work with nanotechnologists, engineers, chemists, biologists, immunologists and vaccinologists.
Glennie Year 12 student Natalie Young said the facilities were "amazing" and the lab experience had made a career in research more attractive.
"There's nothing like AIBN in Toowoomba. My time at AIBN really solidified my career pathway. I would love to become a researcher in the field of nanotechnology," she said.
Natalie was involved in culturing, fixing and staining cells as part of a research project developing microfluidic devices to detect cancer cells for use in diagnosis.
She joined Prof Matt Trau's research group, which uses nanotechnology to develop cutting edge diagnostic devices, understand the epigenetics of breast cancer biology and move towards specialised treatment methods.
Capalaba's Courtney Graymore and Flinders View's Nathan Hui were part of Prof Mark Kendall's research group, where they saw development of needle-free vaccine delivery device the Nanopatch.
Their tasks included microscopic characterisation, analysing skin cells, computer simulations and testing immune responses after vaccinations, under the guidance of Dr Frances Pearson.
Courtney said: "Everything we did was so interesting. Using the high-tech equipment was great fun. I saw innovative ideas behind many of the concepts and experiments we took part in."
The time at AIBN has sparked Courtney's interest in a career in research, starting with undergraduate studies in chemistry or chemical engineering and possibly a PhD.
Nathan said the placement was "significantly different" to a week at school and he wanted to come back for more lab experience.
"It was different to anything I had expected. I did not expect to work with such specialised equipment. I was impressed with the technology and instruments," he said.
Students who took part in the holiday placement program worked alongside researchers focusing on areas as varied as nanomaterials for drug and gene delivery, monoclonal antibody production for therapeutics and computational molecular science.
The students also gained a better understanding of the breadth of AIBN research, with presentations from researchers about work in vaccine development and delivery, and next-generation molecular disease diagnosis.
The placement is part of a close relationship between AIBN and schools around the state, which has also involved presentations at the schools and guided tours of the AIBN building.
AIBN plans to welcome high school students during school holiday placements in 2014. Visit www.aibn.uq.edu.au