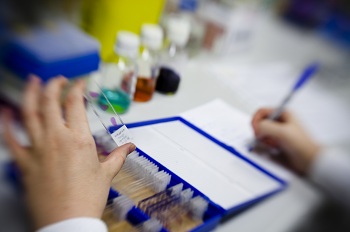 Australian Institute for Bioengineering and Nanotechnology researchers have been named on a number of grants announced in the latest round of National Health and Medical Research Council funding.
AIBN researchers at The University of Queensland will lead three NHMRC Projects, and be involved in three others – including two NHMRC Development Grants, in funding totalling $3.9 million.
AIBN Director Professor Peter Gray said the announcement pointed to the strength of the Institute's medical research.
"AIBN has traditionally been known for our work in materials sciences, however, the funding of these project and development grants also highlights our depth in health science," Professor Gray said.
"Our researchers made a number of compelling cases to develop medical advances to benefit human health.
"I look forward to seeing these projects progress towards applied medical outcomes from the benchtop towards the bedside."
The following projects were funded involving AIBN researchers:
NHMRC Project Grants
NHMRC Development Grants
Professor Kirill Alexandrov: Point-of-Care test for immunosuppressant drugs. $587,360.
Professor Derek Hart, Associate Professor Georgina Clark, Professor Barbara Fazekas de St Groth, Professor Mark Hogarth, Professor Peter Gray, Professor Annemarie Hennessy, Associate Professor Stephen Larsen, Professor David Gottlieb, Professor Stephen Alexander and Dr Con Tsonis. Industry Partner: DendroCyte BioTech: Development of a New Specific Immunosuppressive Monoclonal Antibody to Advance Transplantation. $736,300 (Administered by University of Sydney).
Media: Darius Koreis, d.koreis@uq.edu.au, +61 7 3346 3962, +61 427 148 187.