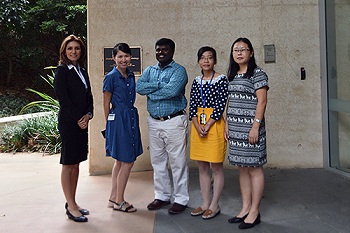 Top early and mid-career researchers at the Australian Institute for Bioengineering and Nanotechnology at The University of Queensland excelled in the Queensland State Government Advance Queensland Fellowships round.
Five researchers received funding totalling $1.14 million in today's announcement, plus additional support from partnering organisations, which will enable the research to continue for three years.
AIBN Director Professor Alan Rowan said the success AIBN enjoyed in this round of the Advance Queensland Research Fellowships scheme is a reflection of AIBN's track record of partnering research together with industry to deliver needs-based outcomes.
"Whether it is the development of an innovative consumer product, or improving industrial processes to be cheaper, safer, faster or greener, AIBN's encourages our researchers to invent solutions to society's problems," Professor Rowan said.
"Each fellowship works in close partnership with or government, who saw the potential of jointing forces with the AIBN to develop research to improve their sector."
Dr Muxina Konarova, an early career fellowship awardee in the Wang Group in close collaboration with the  Australian Petroleum International Exploration and Development and Austeng, will develop modular and small-scale syngas to ethanol reactors that makes a single transport fuel – ethanol.
"Small scale gas to liquid plants suitable for ultilising flare or stranded gas assets have a significant value to our industry collaborators," Dr Konarova said.
"Modular chemical reactors eliminate conventional gas to liquid process hurdles: a small scale, zero process CO2footprint and intensive gas to ethanol reactor mediated by a novel catalyst technology."
Dr Nasim Amiralian of the Martin Group received an early-career fellowship for work with industry partners Derby Rubber and Dugalunji Aboriginal Corporation.
"The objective of this research is to reinforce natural rubber membranes with spinifex nanocellulose for applications in compounded rubbers, as well as ultra-thin latex membranes," Dr Amiralian said.
Dr Pratheep Kumar Annamalai, also of the Martin Group, received a mid-career fellowship to develop low cost, more environmentally friendly concrete and bitumen for buildings and road infrastructure using spinifex additives, in a partnership with the Queensland Department of Transport and Main Roads.
"We will work to improve the durability of concrete and bitumen, which is subjected to particularly harsh conditions in northern Queensland, where extreme temperatures impact the fatigue of materials," Dr Annamalai said.
Dr Li Li of the Xu Group received a mid-career fellowship to partner with JL Dingle Pty Ltd and Huon Aquaculture Company Pty Ltd to develop nano-sized oral delivery systems for the vaccination of animals through their feed.
"Vaccinating small animals such as chickens and fish in large quantities is very difficult to do via injections, so we are trying to develop a cost-effective oral vaccine delivery system," Dr Li said.
Dr Meihua Yu of the Yu Group will work together with the Ridley Corporation on an early career fellowship to develop a safe alternative to antibiotics for livestock feed by using nanotechnology and  natural biomolecules.
"Using nanomaterials and a natural antimicrobial protein, we aim to find safe and effective alternatives to antibiotics used in animal feedstock, thereby promoting health and growth of animals," Dr Yu said.
Professor Rowan reiterated that the success of these researchers demonstrated the Institute's values and philosophy.
"We are very proud of these innovative scientists.  The five fellowships secured by our researchers will enable research in consumer products, public infrastructure, energy and agriculture, showcasing the vibrant and diverse capabilities housed within the Institute," Professor Rowan said.
"We open our doors to all industry and government partners with goal of improving society as a whole."
More information on industry partnerships is available on the industry section of the AIBN website.
Media: Darius Koreis, d.koreis@uq.edu.au, +61 7 3346 3962, +61 427 148 187.