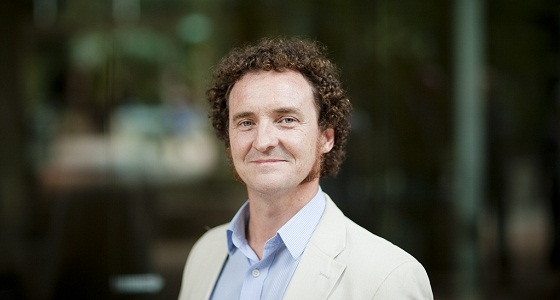 Research into next-generation biomaterials that can help the human body regenerate and repair tissue will be boosted through a prestigious CSIRO appointment.
Chemical engineer and regenerative medicine scientist from The University of Queensland, Professor Justin Cooper-White, has been appointed a CSIRO Office of the Chief Executive (OCE) Science Leader.
The five-year position will see Professor Cooper-White split his time between CSIRO and his current roles at UQ's Australian Institute for Bioengineering and Nanotechnology (AIBN) and the School of Chemical Engineering.
Through the appointment, he will continue research to enhance, repair and ultimately replace damaged or diseased tissues including bone, cartilage and heart muscle.
"This is an immensely complex process but one with great potential benefits to medicine including replacing some existing surgical procedures, which would reduce recovery time and healthcare costs," Professor Cooper-White said.
Biomaterials are materials that interact with the systems of living organisms and are commonly integrated into medical devices or implants.
Professor Cooper-White's research focuses on developing materials and devices that can interact with cells, direct their behaviours and ultimately be used in the body to encourage new, functional tissue generation, a field known as tissue engineering.
"The field of tissue engineering requires materials that are not only compatible with the body, but also intelligent enough to communicate with cells, mimicking critical aspects of the extracellular matrix that surrounds all cells within our tissues," he said.
"These smart biomaterials can then be tailored to control cell behaviours just as the extracellular matrix does, including their ability to grow, turn into different cell types and organise into fully functional tissues.
"The biomaterials will then ensure cells behave appropriately and generate the right tissues, in the right timeframes and in the right places," he said.
"The OCE Science Leader position will allow me to tap into the significant expertise at CSIRO in material synthesis, bio-surface engineering, and cell and matrix biology. It will grant me free rein to pursue the goal of creating a biomaterial discovery platform to produce materials that work with cells and our body to promote tissue repair and regeneration of damaged organs and tissues."
The position provides high-performing researchers with the resources and freedom to deliver outstanding scientific impacts to CSIRO and the Australian community.
UQ President and Vice-Chancellor Professor Peter Høj congratulated Professor Cooper-White on his appointment.
"In the 21st century research institutions must partner or perish, and Professor Cooper-White's appointment as a CSIRO OCE Science Leader will connect two leading Australian research organisations to tackle the issue of damaged tissue," Professor Høj said.
"Both UQ and CSIRO are globally connected institutions with experts across the range of disciplines needed to make regenerative medicine a reality for the community."
CSIRO Chief of the Division of Materials Science and Engineering Dr Cathy Foley said she was delighted to welcome Professor Cooper-White.
"Professor Cooper-White is a world leader in biomaterials development with an outstanding scientific reputation and track record. His expertise will complement CSIRO's excellent track record in the development, commercialisation and clinical application of biomaterials," Dr Foley said.
"We look forward to working with him and building further collaborations with The University of Queensland, a university ranked in the world's top 15 for chemical engineering."
Professor Cooper-White will join CSIRO's Division of Materials Science and Engineering, which conducts research to develop new materials for application in manufacturing, health, automotive and aerospace, defence and resource exploration.