Start-up company Scaled Biolabs Inc is changing the way researchers around the world conduct manual cellular experiments and accelerating discoveries in biology by providing novel devices that enable 1000's of experiments to occur simultaneously.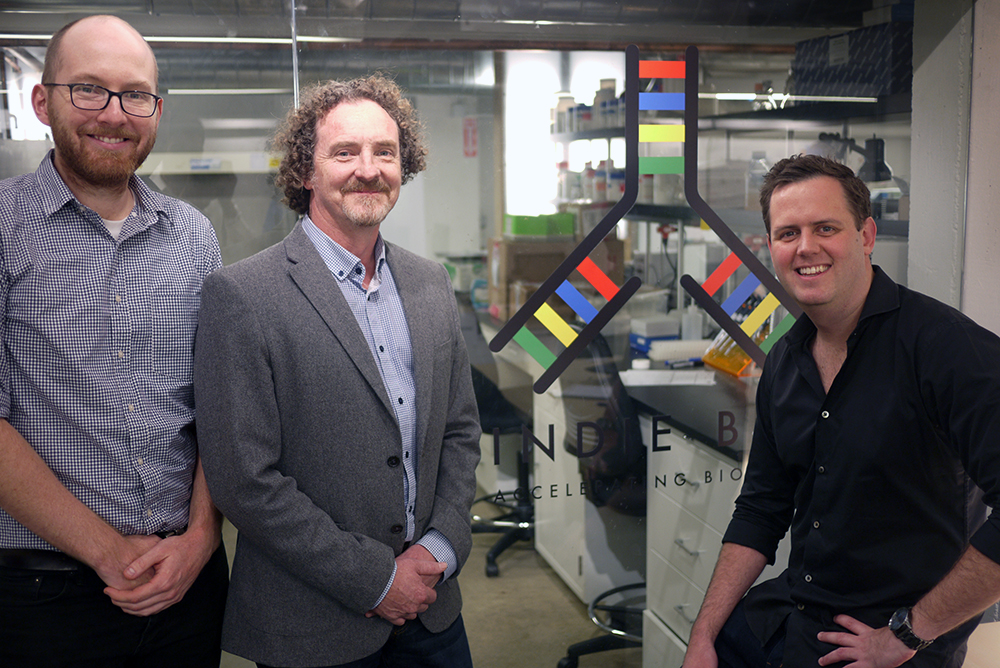 Using multi-channel microfluidic technology spun-out of The University of Queensland's Australian Institute for Bioengineering and Nanotechnology, the new company has developed microdevices that rapidly survey cellular microenvironments for ideal growing conditions or to optimise cellular responses.
Company co-founder and Chief Scientific Officer Professor Justin Cooper-White said the technology not only significantly reduces product development cycles for cellular therapies and biotherapeutics, but opens new avenues for discovery of novel products and mechanisms.
"Our devices can scan a set of test conditions at least 10 times faster than a manual process, using much less reagents, and provide greater insight into the interactions occurring in complex biological systems," Professor Cooper-White said.
"We believe this technology platform will help unlock the full potential of next generation therapeutics, particularly cell, biologic, and gene therapies."
Similar to an electronic chip using resistors to control the flow of electronic signals, the microfluidic chip controls the flow of reagents.
Around the size of a credit card, several versions of the chip have been developed, including the Microbioreactor Array (270 culture chambers) and High Density Microbioreactor Array (8,100 culture chambers).
The chambers range in volume from 20-200 nanolitres, and can contain miniaturised cell cultures such as induced human pluripotent stem cells (iPSCs) or microbiological cultures. Other versions targeted to specific use cases are also under development.
Chief Executive Officer and co-founder Dr Drew Titmarsh, an AIBN PhD graduate, said the innovative design of the company's microfluidic solutions offers superior performance compared to traditional methods.
"By scaling down biology to nanolitre sizes, our microfluidic platforms provide access to a whole new level of throughput and insight, allowing economic screening of therapeutic agents and optimising fermentation conditions," Dr Titmarsh said.
"Importantly, each experimental condition is run many times in parallel, providing confidence in the results."
The chips are analysed using an imaging approach, which enables non-destructive, high resolution single-cell level measurements. Chief Technology Officer and co-founder Dr Brendan Griffen, also a UQ PhD (Physics) graduate, is developing a machine learning-driven image analysis pipeline, which will allow users to understand their biology quantitatively, without having to re-process samples or spend long hours looking down a microscope.
Scaled Biolabs Inc. is currently providing access to early adopters of the technology through a service which will inform development of a benchtop instrument that can be run in a customer's own lab.
The technology has already been placed in several research labs around the world, including University College London and the Institute of Medical Biology at A*STAR Singapore.
The company has established headquarters in San Francisco, USA, and is engaging with continued research and development operations at AIBN. Scaled Biolabs Inc is currently supported though accelerator and pre-seed investment from IndieBio and SOSV, and is in the process of raising their seed funding round. A demo day pitch will be livestreamed by IndieBio on 9 February 3pm (PST) on YouTube.
The technology has previously received UniQuest Pathfinder Proof of Concept Grant funding, and was originally developed under funding from the Australian Research Council and the National Health and Medical Research Council.
AIBN is dedicated to developing a culture of research commercialisation and helping to incubate technology with commercial applications for the betterment of society.
Media: communications@aibn.uq.edu.au, +61 7 3346 3962; Professor Justin-Cooper-White, j.cooperwhite@uq.edu.au, +61 7 3346 3858.