The University of Queensland and CSIRO are building a new world-class $4.5 million initiative to boost Australia's synthetic biology capabilities.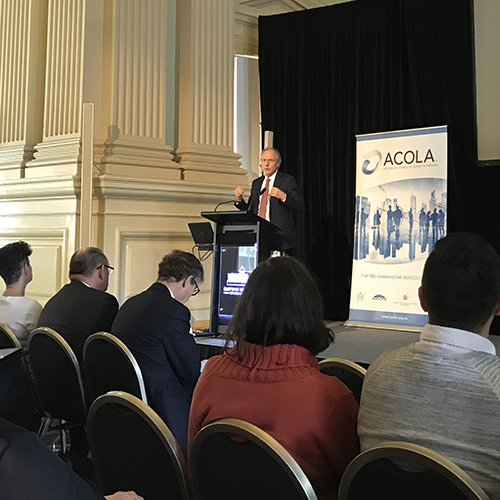 The promising new venture was officially announced today at Customs House in Brisbane by UQ Vice-Chancellor Professor Peter Høj and CSIRO Executive Director for Environment, Energy and Resources Dr Peter Mayfield.
The CSIRO – UQ Synthetic Biology Initiative involves a close collaboration between the CSIRO Synthetic Biology Future Science Platform (SynBioFSP) and UQ's Australian Institute for Bioengineering and Nanotechnology (AIBN). Together they will develop a collaborative research program based at AIBN that brings together the facilities and expertise of two organisations at the leading edge of this emerging field.
Building on current capabilities, the alliance will recruit new senior synthetic biologists and train a new cohort of synthetic biologists with a focus on industrial bioengineering.
 "Our joint vision is to help create a sustainable, export-oriented biotechnology and bio products sector attracting significant national and international investment, and creating regional, high-value and knowledge-intensive jobs," said AIBN Director Professor Alan Rowan, adding that the project forms part of a larger AIBN research focus in Advanced Biomanufacturing, which has secured a total investment of $20 million.
CSIRO's SynBioFSP is a $40 M research and development program with 60 collaborative research projects and over 40 national and international partner organisations. It is positioning Australia to play a role in one of the fastest growing areas of modern science so that we can understand global developments and contribute to advances in areas such as manufacturing, industrial biotechnology, environmental remediation, biosecurity, agriculture and healthcare research.
Dr Mayfield said synthetic biology was set to drive innovation in many diverse industries.
"Synthetic biology is a rapidly expanding multi-billion dollar industry with significant potential to generate societal benefits and commercial opportunities for Australia," he said.
Associate Professor Claudia Vickers, who leads CSIRO's SynBioFSP, agrees. "One of the missions of the Synthetic Biology Future Science Platform is to further develop capacity in synthetic biology across Australia, in a collaborative manner, and to catalyse innovation in this emerging field," she said. "This new initiative will play an important role in that."
"AIBN is delighted to be partnering with SynBioFSP," added Professor Rowan. "AIBN is dedicated to developing new technologies for the benefit of society, and being at the forefront of synthetic biology and industrial biotechnology will enable us to make critical advances needed to meet that goal."
The UQ-CSIRO Synthetic Biology Initiative was announced at today's launch of the Australian Council of Learned Academies (ACOLA) road-mapping report into synthetic biology in Australia.
Australia's Chief Scientist, Dr Alan Finkel AO, commissioned the report on behalf of the Commonwealth Science Council to examine the opportunities and challenges that synthetic biology will present Australia in the coming decade.
"Building consumer trust in the safe development of these technologies is vital," Dr Finkel said.
"Our high-performing university research sector and our national science flagship, the CSIRO, both bring their reputations for excellence in ethics to that task."