A pilot facility at The University of Queensland could be producing mRNA vaccines and cancer therapies for research and development within months after receiving backing from the Australian Government.
UQ's Australian Institute for Bioengineering and Nanotechnology (AIBN) will host the "BASE" facility, via a $2.2 million investment of matched funds from the National Collaborative Research Infrastructure Strategy (NCRIS) through Therapeutic Innovation Australia (TIA), and the University.
TIA CEO Dr Stuart Newman said that this support would enable the facility to produce high-quality, high-purity nucleic acids – RNA and DNA – to support the work of nucleic acid researchers across the country.
"This investment complements recent investments in later-stage, large-scale mRNA manufacturing, as well as TIA's own ongoing investment in biologics production to support R&D," Dr Newman said.
BASE harnesses the collective UQ expertise of the leading RNA research by Associate Professor Timothy Mercer, the biomanufacturing powerhouse National Biologics Facility led by Professor Trent Munro, and the RNA and DNA production expertise of the Protein Expression Facility, led by Professor Linda Lua.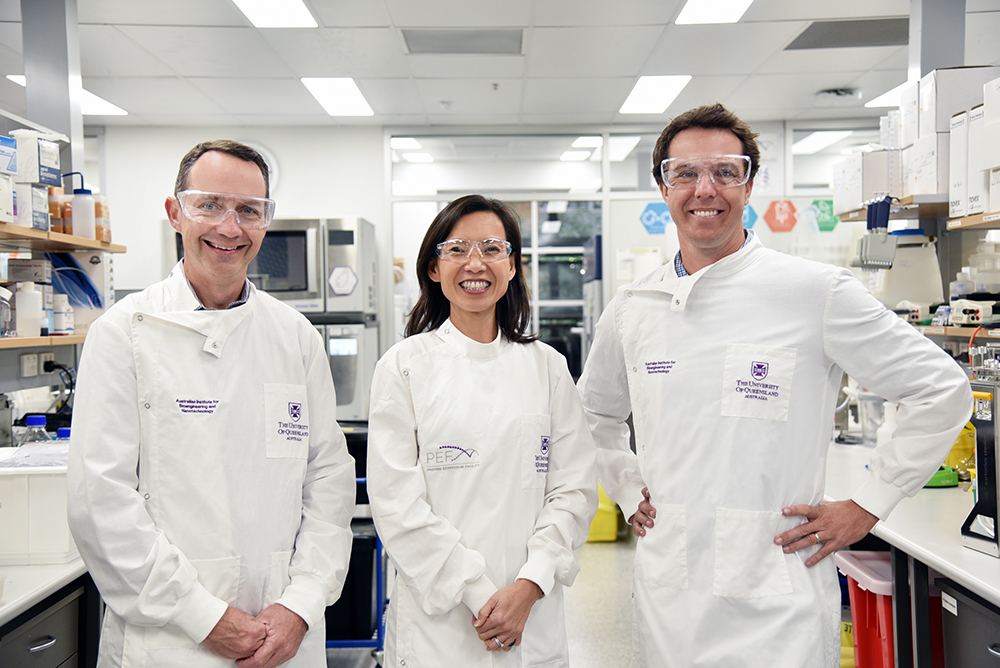 Dr Mercer said the pandemic response had demonstrated that mRNA vaccines can be quickly designed to protect against new variants and other emerging diseases.
"mRNA vaccines have been key in our fight against COVID-19, while other mRNA vaccines are showing great potential in the fight against cancer," Dr Mercer said.
Professor Munro said the facility would provide an important connection between R&D organisations and large-scale manufacturers seeking to work with the 'revolutionary' technologies.
"It is vital that Australia develops sovereign capability in the pre-clinical synthesis of RNA and DNA to support early-stage R&D by Australian researchers and the biotechnology industry," Professor Munro said.
"TIA has recognised this growing demand and made a targeted investment in building capability, and we will now be seeking further investment to expand the services we can offer in this space."
Professor Lua said the federal investment builds on the broad range of advanced biomanufacturing experience at UQ.
"The production of large quantities of highly pure RNA and DNA for rapid response is challenging, and requires advanced equipment and a skilled team of scientists – we are delighted to team with BASE to advance research into this emerging area," Professor Lua said.
The Queensland Department of Environment and Science said UQ's demonstrated experience in vaccine development and infectious disease research made it the perfect location to ensure that all Australians can benefit from this important facility.
The facility will benefit from AIBN's development of new nanoparticles -  'nanocontainers' that deliver nucleic acids to their target in the cell, similar to those used in the Pfizer and Moderna vaccines.
It is also envisioned that BASE will work collaboratively with other related facilities nationally, including UNSW Sydney, which has particular strengths in nanoparticle delivery systems targeting cancer and RNA chemistry.
Dr Mercer said that mRNA vaccines work by prompting our cells to make proteins that induce an immune response and cause the body to produce antibodies.
"They also encode small proteins expressed by cancerous cells, allowing immune cells to recognise and attack tumours."
B-roll footage, interviews and images are available via Dropbox.
Media: AIBN Communications, communications@aibn.uq.edu.au, +61 447 305 979