High school students from Kingaroy State High School have received hands-on experience developing nanomedicines using state of the art technology at The University of Queensland.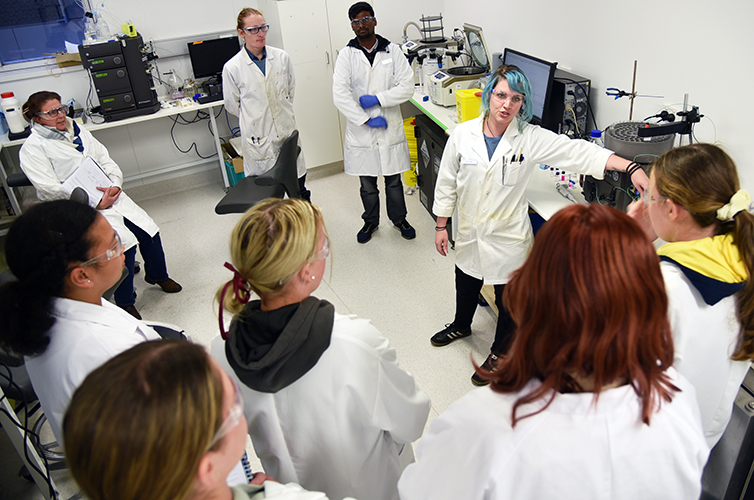 The Year 10 investigators tested out nanomaterials that they produced in their school labs to end a 13-week Advanced Chemistry module co-developed by Professor Kristofer Thurecht and Dr Craig Bell from UQ's Australian Institute for Bioengineering and Nanotechnology and Centre for Advanced Imaging, and school teacher Steven Langton.
Mr Langton said that during the three-day visit to UQ, the students investigated the properties of nanomaterials using the same techniques as researchers — fluorescence microscopy, nuclear magnetic resonance, mass spectroscopy and size exclusion chromatography.
The students also were able to test-run some advanced visualisation technology developed by the team using virtual reality.
"Kris is a past student of Kingaroy State High School, and when I phoned him up five years ago to ask for some help setting up a new chemistry course, he was very enthusiastic — the course has been a great success over the years and really boosted science uptake in our school," Mr Langton said.
Dr Craig Bell, from Professor Thurecht's group, said that the whole research group got involved in the visit from the year 10 students.
"We showed them real-life materials that we are using in our current research and the techniques we apply to really understand the properties of these materials – it's not just basic polymer science.
"We get a real kick out of seeing them learn, and it has enabled us to further develop VR as a learning tool."
Mr Langton said the teaching starts by highlighting Professor Thurecht's research using the real-life example of Hoover, a beagle with prostate cancer who was diagnosed and treated using targeted nanomedicines developed by Professor Thurecht's team.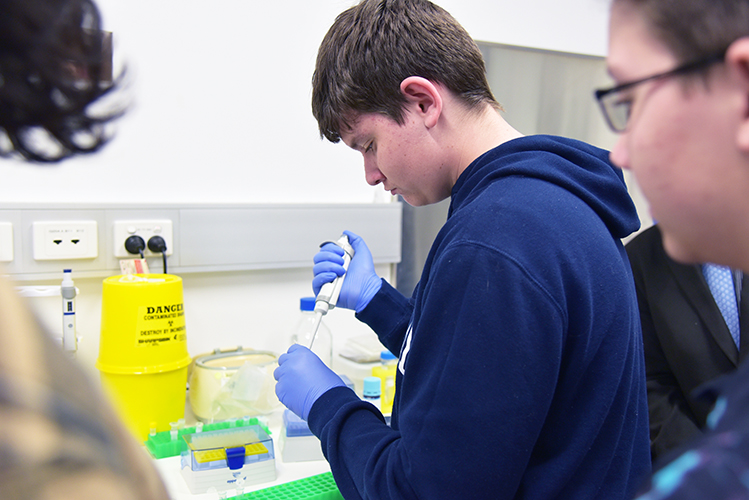 Once the students learn about all the techniques in the classroom, the UQ researchers visit Kingaroy to help the students make their own nanomaterials in the school labs, which the pupils then take down to UQ for testing.
"There's a problem across Australia with uptake of science — but this module has really helped at our school — we've had to create an extra chemistry class to meet the demand," Mr Langton said.
"It really gives the Year 10 students the confidence to make that step up into Year 11, and the impact of the program has been huge."
"We've had six past pupils visit us this week — they are now studying at UQ — coming from a regional school, this course really opens their eyes to what's out there and all the options available to them in science."
This initiative is just one example of the broader outreach programs developed by UQ to strengthen Australia's future in STEMM.
Media: AIBN Communications, communications@aibn.uq.edu.au, +61 447 305 979