HIV therapies have come a long way since the first antiretrovirals 35 years ago. But for many patients – especially those enduring multiple painful injections a day – there's undoubtedly room for improvement.
That's where Dr Felicity Han comes in.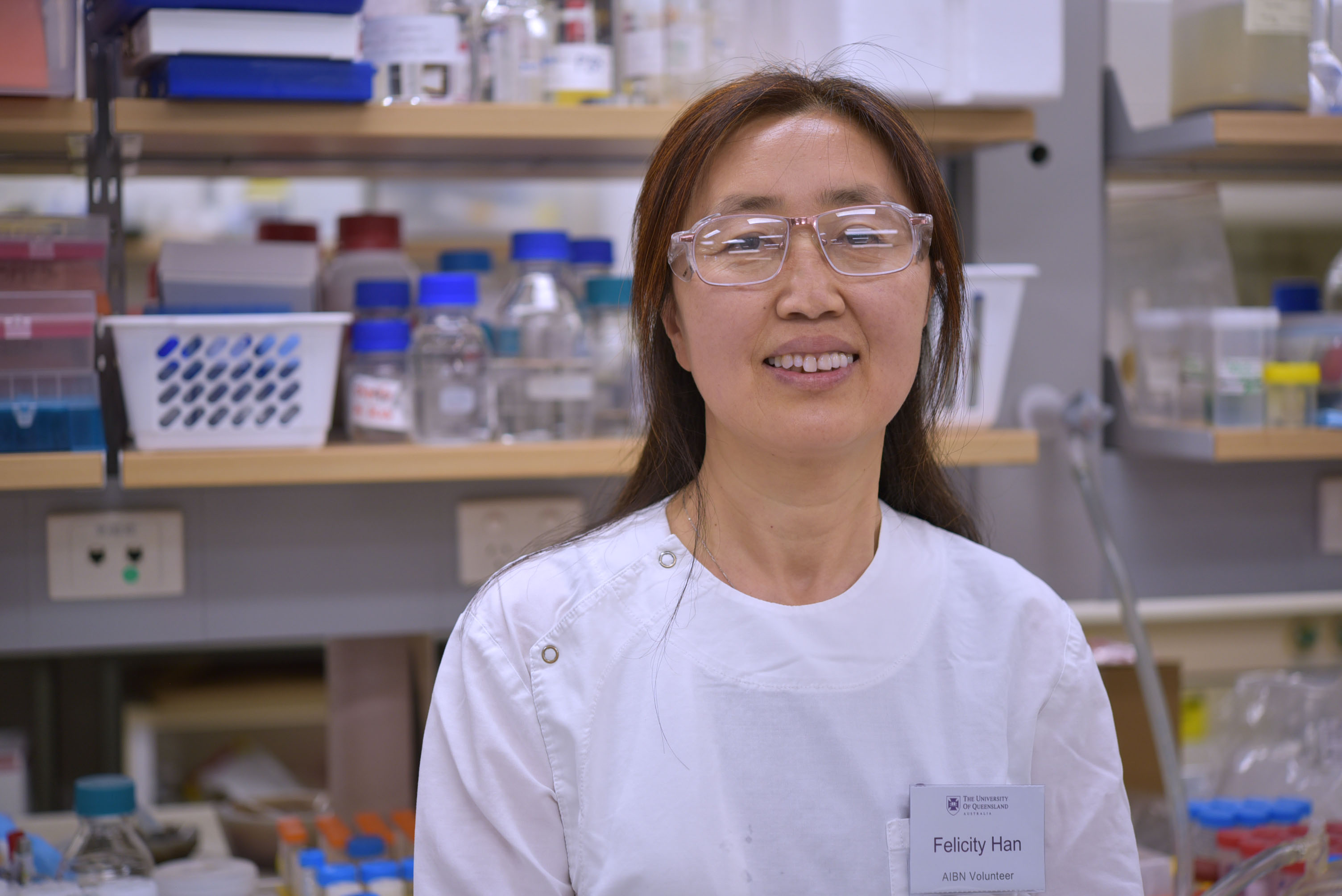 Dr Han is a Research Fellow at the Australian Institute for Bioengineering and Nanotechnology working to develop novel and highly effective painkillers.
The fundamentals of her research into pain research and drug delivery have also allowed her to branch out into other chronic conditions, such as diabetes and HIV.
One of Dr Han's most intriguing pursuits involves the creation of a new type of oral HIV drug: one that would bypass the need for multiple needles each day and the often-painful reactions that accompany certain treatments.
Currently, patients using the HIV therapy Enfuvirtide (also known as T20) must do so by injecting it, and suffering the common side effects: pain at the needle site, a hardening of the skin, erythema, nodules, cysts, and itching a common complaint.  
For some, nausea, diarrhea, fatigue, and insomnia also follow.
Now Dr Han is building on her previous work in the hope of improving patients' quality of life.
"Being able to administer T20 orally, rather than by injection, could enable it to be used as a first-line treatment for HIV/AIDS, instead of as a secondary treatment," Dr Han says.
Read on to learn about Dr Han's crucial work in the pain field, and how a timely funding boost could help her chart a new treatment path for those suffering serious diseases.
-
Dr Han, you're doing incredible work in nano-based drug formulation and development to improve chronic pain management. It's a pretty complex field. For the uninitiated, can you lay it out for us?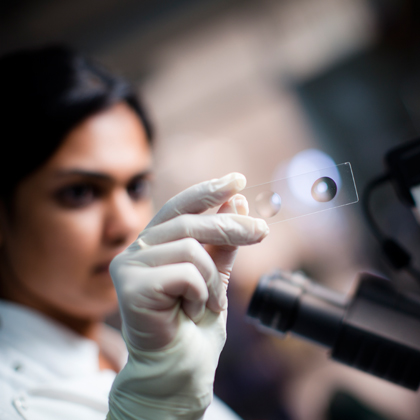 I can certainly try. At a high level, my area is where drug delivery and the pain field overlaps.
The main goal – something that runs through my work - is to improve the quality of life for people suffering from chronic pain. I do this by using nanotechnology to develop new and highly effective painkillers.
Nice one. How's it all going?
Well, I have significant expertise in the establishment and the use of rodent pain models to assess novel analgesics. I have also established five techniques to produce painkiller–loaded nanoparticles and nanofibers that improve on current options, which either lack efficacy or produce dose-limiting side-effects.
As a specific example, there is a small and potent peptide that has been on the market as a chemical for over 10 years. However, it cannot be used as a therapeutic because of its short half-life and unsuitability to be taken orally. In the form of my nanoparticles, that peptide has the potential to become an oral treatment.
And, as I understand, your research has also opened you up to improving delivery methods for other chronic conditions?
That's right. One of the projects we've been working on is a new nanotechnology platform to carry therapeutic peptides for patients undergoing treatment for HIV. In other words, an oral HIV drug.
Why is it a better option for someone to take an HIV drug orally?
Enfuvirtide -  which we also know as T20 - is a common HIV drug. It decreases the amount of HIV in a patient's blood.
Currently, T20 is administered by multiple daily injections. And these injections are often not pleasant. Patients more often than not report injection site reactions, and lingering pain.
Subsequently, the clinical application of T20 is limited and it is generally reserved for patients with extensive treatment history, multiclass antiretroviral resistance, and few antiretroviral therapy options.
The goal of our project is to develop and test whether nanoparticles loaded with T20 can be efficiently delivered as an oral drug. Treatment via oral drugs is ideal, as it is easy for patients to do and has high treatment success. It would also only need to be taken once a day.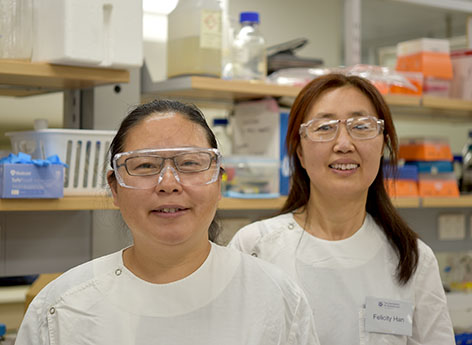 Being able to administer T20 orally, rather than by injection, could enable it to be used as a first-line treatment for HIV/AIDS, instead of as a secondary treatment.
This would increase treatment success and the quality of life for patients, eliminating the issues associated with repeated, regular injections.
And you've won a bit of support to help see this idea through?
Yes – I was very thankful to get a $100,000 grant for this year and $100,000 grants for next year from the Australian Centre for HIV and Hepatitis Virology Research with Professor Gordon Xu and my collaborators, Associate Professor David Harrich and Min-Hsuan Lin from the QIMR Berghofer Medical Research Institute.
Dr Han, you're a familiar face at UQ - but we've only had you under our roof at the AIBN for a couple of years. How did you come to be a Research Fellow here?
I arrived at the University of Queensland in 2011 to complete a PhD on cancer chemotherapy induced peripheral neuropathy, which was actually part of a wider ARC-funded project led by Emeritus Professor Maree Smith, Professor Andrew Whittaker and Professor Kristofer Thurecht.
I was a full-time Postdoctoral Research Fellow at UQ's School of Biomedical Sciences for about six years. For two of those years I was also a sessional lecturer at Griffith University. In early 2020 I began to expand my interests into a new field, and I became an Affiliate Research Fellow with the AIBN.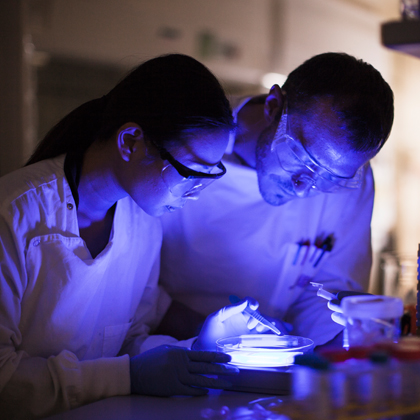 That evolved into a full-time Research Fellow position in August 2021, and since then I've been using nanotechnology to develop novel and highly effective painkillers for improving chronic pain management.
For the past year or so I've also been a visiting fellow at QIMR Berghofer. Working with other leading researcher is crucial if you want to stay at the forefront of drug delivery systems and the pain field, and I greatly value my collaboration with QIMR.
What would you say are the overarching priorities of your lab at the moment?
The current focus of the lab is on the development of drug-products to solve unmet needs in the pain field using sustainable materials.
I have a broad and unique background in both pharmacology and drug delivery systems, with specific expertise in the development of novel drug products and testing their analgesic efficacy and safety including pharmacokinetic and pharmacodynamic studies.
We are developing multifunctional sutures including biodegradable pain relief sutures. This project is being supported by UQ Knowledge Exchange and Translation ECR Funding and my industry partners Dynek Pty Ltd and Hainan Beautech Stem Antiaging Hospital Ltd.
We are developing innovative novel nanoparticles, which deliver innate-immune targeting peptides for the treatment of cancer and cancer-related pain. We are establishing a platform for the development of safe, effective delivery for other small molecule or peptide drugs in general to pave their way to clinical trials including oral insulin for diabetes and oral T20 for HIV.
Our research also investigates the role of C5a and C3a, estrogen, etc. in the pathogenesis of chronic pain including neuropathic pain, cancer-related pain, low back pain and OA pain.
There is a lot happening, and I just hope we can one day make a difference for patients, especially those with chronic conditions.