Wound Management: bioactivation of hydrogel to promote wound healing
Duration:
January 2017
–
January 2025
Project Summary
Polyisocyanopeptide (PIC)-based hydrogel functionalised with tri-ethylene glycol is an ideal scaffold for wound healing approaches as it is a liquid that solidifies at body temperature enabling easy application to complex wound sites and their mechanical responsiveness mimics that of biopolymers. This project is focused on using PIC hydrogel as the matrix for therapeutic wound dressings and by conjugation of bioactive molecules, promote wound healing by bringing about hemostasis as well as disinfection and stimulation of subsequent healing.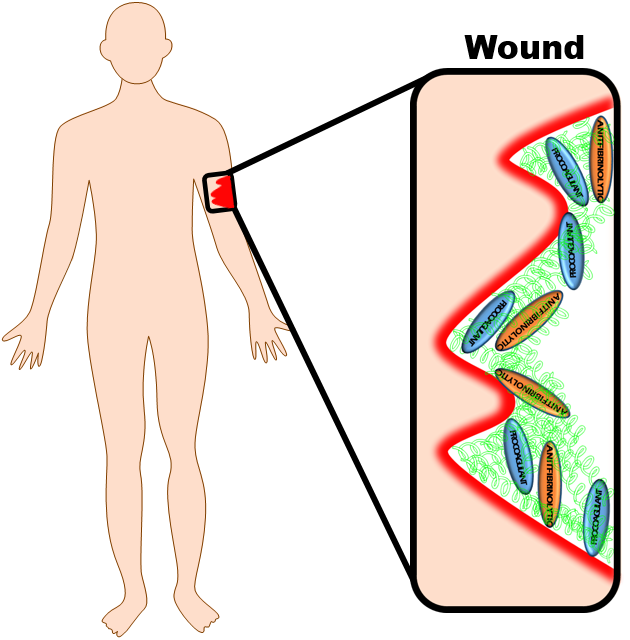 Research Group
Keywords
bio-conjugation, hydrogel, wound healing, hemostasis, dressings
Available Student Projects
Lighting up snake venom proteins: fluorescently tag procoagulant to monitor movement at wound sites during blood clotting.
Tackling Coagulopathy (uncontrolled bleeding), a major cause of trauma-related deaths using hydrogel based wound dressings
Really get to know your snake venom proteins: investigation of procoagulant's blood clotting activity and the effect of the disintegrin and ADAM domains, as well as the effect of metal ions on this pro-coagulant metalloprotease.
Please email Rowan Group to enquire about student projects.
Project members
External to AIBN
---
Dr Lambro Johnson, Dr Paul Masci, Professor John de Jersey, Professor Martin Lavin, Dr Kong-Nan Zhao.