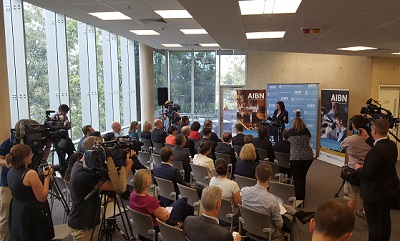 The University of Queensland today launched a new $7 million regenerative medicine research centre to improve older Australians' quality of life and increase their participation and productivity.
Queensland Premier Annastacia Palaszczuk launched the UQ Centre in Stem Cell Ageing and Regenerative Engineering (UQ-StemCARE) at UQ's Australian Institute for Bioengineering and Nanotechnology.
"We all know that as we age our bodies tire and gradually lose their ability to heal themselves," Ms Palaszczuk said.
"This incredible research will study how to optimise our body's innate regenerative abilities so that they are extended, enabling the elderly to enjoy a more active, better quality of life for longer.
"We are delighted that this research will employ more scientists and train new PhD students, enabling a critical mass of expertise that will help the Queensland economy transition to a knowledge-based smart economy."
UQ Vice-Chancellor and President Professor Peter Høj said the Centre would further develop UQ's already significant interdisciplinary ageing research capabilities.
"UQ is already creating change to improve the lives of older Australians with a broad healthy ageing research program tackling issues such as nutrition, physical activity, social participation, anxiety, cognition and dementia.
"The Queensland Brain Institute's The Clem Jones Centre for Ageing Dementia Research (CADR), established in 2011 with funding from the State and Federal governments and philanthropic support, is making important discoveries into new diagnostics and therapeutic treatments for dementia.
"The establishment of UQ-StemCARE builds on this in a concerted push to deliver more in an area where society has a real need – here and abroad – and will provide technological contributions for a better world," he said.
"UQ and the Queensland Government will work hand-in-hand to support this important area of investigation, and to translate it into clinical and practical outcomes."
UQ-StemCARE will focus on unravelling the key cellular and molecular mechanisms of stem cell ageing, and investigate engineering clinical solutions in regenerative medicine for prolonging the human health span.
Eventual clinical translation could allow tissue function to be maintained and possibly restored, even at advanced age.
AIBN Director Professor Alan Rowan said the centre would aim to understand and eventually reverse the decline of stem cell function during ageing, and would work to find clinical solutions.
"The population is getting older, and the decrease in productivity coupled with increasing health costs will be a significant societal problem if solutions are not found," Professor Rowan said.
"By studying how stem cells can maintain functional tissue as we age, we can combat many of the ailments currently afflicting society."
The centre will study how stem cells impact on age-related musculoskeletal conditions such as muscle wasting, osteoporosis and osteo-arthritis; vascular diseases such as arteriosclerosis and atherosclerosis; and neural diseases such as Alzheimer's, Parkinson's and dementia.
Australian Institute of Health and Welfare statistics show 53 per cent of Australians aged over 65 years reported a form of disability in 2012.
Australian Bureau of Statistics population projections predict that there will be 9.6 million Australians aged 65 years-plus, and 1.9 million people aged 85-plus by 2064.
This compares to current figures of about 3.5 million Australians aged over 65, and about 500,000 aged over 85.
Australian Institute for Bioengineering and Nanotechnology the Queensland Brain Institute the Institute for Molecular Bioscience the Faculty of Engineering, Architecture and Information Technology Faculty of Medicine and the Faculty of Health and Behavioural Sciences.
The centre will be co-directed by AIBN professors Alan Rowan, Ernst Wolvetang and Justin Cooper-White.
Media: Darius Koreis, d.koreis@uq.edu.au, +61 7 3346 3962, +61 427 148 187.