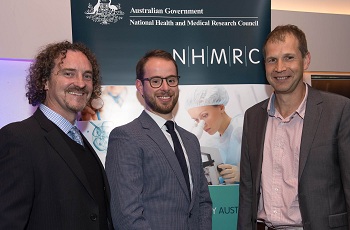 The work of two Australian Institute for Bioengineering and Nanotechnology researchers was recognised at last night's (13 July) National Health and Medical Research Council Research Excellence Awards.
The importance and quality of NHMRC grants awarded last year to group leaders Professor Justin Cooper-White and Professor Kirill Alexandrov were acknowledged during the annual awards night.
AIBN Director Professor Alan Rowan said the recognition was a highlight of AIBN's NHMRC grant funding success in 2015, which saw more than $4.5 million in grants awarded for six projects.
"AIBN prides itself on excellent science underpinning needs-based outcomes, and the NHMRC's recognition of these awards is an ideal demonstration of our values," Professor Rowan said.
"I congratulate Professors Cooper-White and Alexandrov on their success, and look forward to seeing the results of their research."
Professor Cooper-White was awarded the Marshall and Warren Award, which recognises the most highly innovative and potentially transformative grant from each year's Project Grants funding round.
The project, "Direct reprogramming of adult cardiac fibroblasts to functional cardiomyocytes through targeted delivery", aims to restore damaged heart tissue to a functional state following injury.
"Current therapies have limited abilities to repair damaged heart tissue, however, reprogramming cardiac fibroblasts could restore healthy function for survivors of heart disease," Professor Cooper-White said.
"Ischemic – or coronary – heart disease claims the lives of more than 20 thousand Australians each year, and affects around 1.4 million others, who each have damage to their hearts to a greater or lesser extent."
The proposal was developed in collaboration with Dr Enzo Porello of UQ's School of Biomedical Sciences, and Professor Ernst Wolvetang of the AIBN.
Professor Kirill Alexandrov, who holds a joint appointment between the Institute for Molecular Bioscience and AIBN, was acknowledged as holding the Top-ranked Development Grant application for his project with Molecular Warehouse Ltd on "Point-of-Care test for immunosuppressant drugs."
The survival of the approximately 100,000 patients worldwide who receive an organ transplantation each year depend on the immunosuppressant drugs that need to be carefully administered for the rest of their lives and monitored to avoid organ rejection by the body.
"Organ transplantation is a very serious and risky procedure that you do not undertake unless you absolutely have to," Professor Alexandrov said.
"This work will develop a point-of-care test for patients and clinicians to easily and accurately monitor drug levels at the bedside or at patient's home to maintain immunosuppressant drugs at their optimal level," he said.
Professor Alexandrov's grant will develop new a diagnostic biosensor capable of detecting a reporting the body's uptake of three commonly used immunosuppressants: Sirolimus, Tacrolimus and Cyclosporin.
AIBN is dedicated to delivering translational outcomes for the benefit of society. To find out more about AIBN's research into health, visit our projects page.
Media: Darius Koreis, d.koreis@uq.edu.au, +61 7 3346 3962, +61 427 148 187.