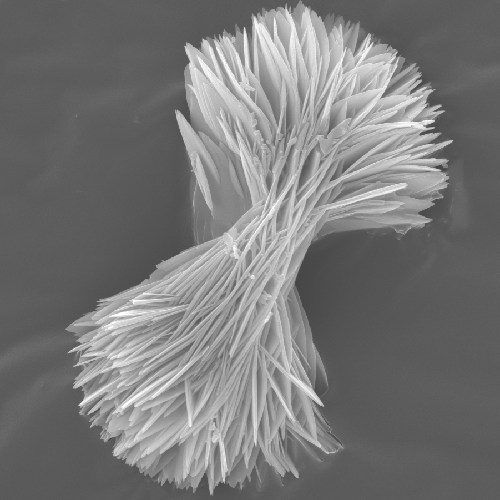 An image of a sodium cathode microcluster under development for use in next generation rechargeable batteries has won the 2016 AIBN Science Image Contest at The University of Queensland's Australian Institute for Bioengineering and Nanotechnology.
AIBN PhD student Xiaobo Zhu from the Wang Group captured the beautiful image using a scanning electron microscope.
"Some people say it looks like a bouquet of flowers, others say it looks like a plume of feathers; I just know it's a striking image," Mr Zhu said.
"It's extremely difficult to isolate a single unbroken microcluster like this, so to capture in an image was fortunate."
The microcluster shown in the image is 10 μm in length, and it is constituted by ordered nanoflakes with a thickness less than 100nm – or 800 times thinner than that of a human hair. Only two milligrams of the experimental cathode material are required inside a coin cell.
"Our work on sodium batteries is really important, as we need to find alternatives to lithium-ion batteries that are reliant on dwindling lithium sources," he said.
"This cathode material is a new type of sodium iron phosphate, which is entirely based on earth-abundant elements, so we believe it is promising for low-cost energy storage applications."
The 2016 AIBN Science Image Contest received more than 50 entries, using a variety of imaging techniques, including positron emission tomography-computed tomography, 3D computer modelling, atomic-force microscopy, confocal microscopy, fluorescence microscopy, scanning electron microscopy, transmission electron microscopy, and even digital photography.
AIBN Director Professor Alan Rowan said the images conveyed the beauty of science as a frontier of discovery.
"The work our researchers do – whether studying the properties of existing materials or biological processes, or creating entirely new ones – affords them the great privilege of observing events that no one has ever seen before," Professor Rowan said.
"These spectacular scientific images provide a glimpse of a world within ours, and I congratulate and thank all of the entrants for their time in making them available to us.
"We're very fortunate to have the facilities available to generate and capture images such as these, and as AIBN is dedicated to providing scientific advances for the benefit of society it's an honour to provide these glimpses of our work to the community."
Discover more about AIBN's innovative research projects in the areas health, energy, manufacturing and sustainability.