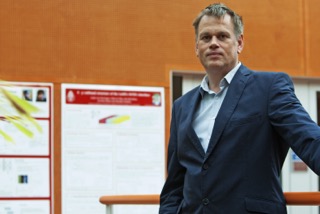 The Australian Institute for Bioengineering and Nanotechnology at The University of Queensland has appointed a new director following an international search.
Professor Alan Rowan will join UQ in January, taking over from AIBN's inaugural director, Professor Peter Gray.
UQ Vice-Chancellor and President Professor Peter Høj said Professor Gray's leadership since 2003 had helped position AIBN as a major research institute of international standing, employing almost 500 people.
"We've seen significant success stories, including Nanopatch vaccine technology, the manufacture of an antibody used in world-first human Hendra virus clinical trials, and collaboration between AIBN and American researchers to tackle the growing global threat of Middle East respiratory syndrome coronavirus (MERS-CoV)," Professor Høj said.
"The nanotechnology research at AIBN has had broad reaching application, from ground-breaking advancements in green energy technologies to targeted drug delivery.
Professor Rowan will move to AIBN from the Netherlands, where he leads a research group at Radboud University's Institute of Molecules and Materials, one of Europe's leading research centres for the nanosciences.
Professor Rowan's latest scientific achievement has been the development of the first truly biomimetic hydrogel – a gel that mimics the mechanical and functional properties of the extracellular matrix.
It is being commercialised through start-up companies for applications in wound dressings, drug therapeutics and cell growth.
"This work, attempting to create a better wound dressing for use in burns and deep ulcer wounds, could improve health care globally," Professor Høj said.
Professor Rowan has published more than 300 peer-reviewed articles and books with more than 12,000 citations (h-index 51), placing him among the top scientists in his field.
He is lead investigator on 11 grants totalling 7.7m euros from multiple European funding agencies, and he recently won the 2014 Royal Society of Chemistry Soft Matter and Biophysics Prize.
Professor Rowan said he was enthusiastic about his new role at AIBN.
"The Institute is home to 18 research groups, all focused on developing cutting edge scientific processes and products for improving human health and the overall quality of life," he said.
"I'm excited to be a part of such an important cause, and I'm looking forward to helping create a stimulating environment for scientific excellence and driving AIBN's innovative discoveries into industry, making sure that scientific research is translated into viable and practical solutions that benefit the whole of society."
Media: Darius Koreis, d.koreis@uq.edu.au, +61 7 3346 3962.