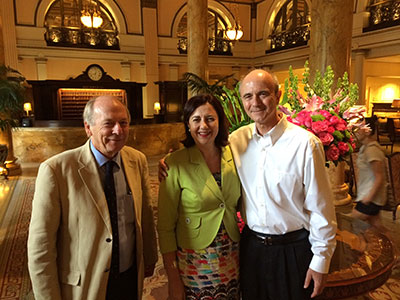 University of Queensland scientists will collaborate with top American researchers to develop an antibody against the growing global threat of Middle East respiratory syndrome coronavirus (MERS-CoV).
UQ's Australian Institute for Bioengineering and Nanotechnology (AIBN), under director Professor Peter Gray, will lead the project, which was announced by Queensland Premier Annastacia Palaszczuk in Washington on Saturday (13 June).
"Following the successful world-class research and development they did on the Hendra monoclonal antibody, Queensland researchers are set to focus on other emerging diseases, potentially including MERS," Ms Palaszczuk said.
 MERS is a serious respiratory illness caused by a coronavirus similar to the virus that causes SARS. It is fatal in 30 to 40 per cent of cases. (MERS) has recently struck South Korea and has already caused seven deaths, seen over 2500 people quarantined, and 1800 schools to be shut.
Professor Gray said "MERS and other emerging diseases pose a serious global threat, which is why a collaborative effort from some of the world's best researchers is urgently needed." He and his team look forward to the challenge of developing the antibody.
"I think it's fantastic that we're involved in getting on the front foot against these serious diseases," Professor Gray said.
"While there haven't yet been any on-shore cases of MERS-CoV in Australia, it's an infectious disease and many Australians travel to or originate from countries that are affected."
The UQ team will work with international researchers, including Dr Dimiter Dimitrov from the National Institutes of Health (NIH) who, along with Professor Chris Broder, was co-developer of the anti-Hendra monoclonal antibody.
Monoclonal antibodies are not vaccines, but are antibodies that are engineered to mimic the antibodies produced naturally by the human body in response to vaccines, or pathogens and other invaders.
Media: Marketing and Communications team communications@aibn.uq.edu.au