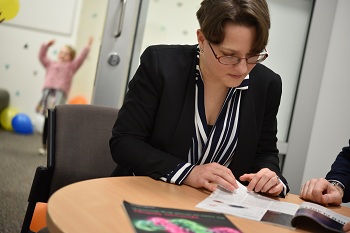 The University of Queensland's Australian Institute for Bioengineering and Nanotechnologyhas opened the doors to a new dedicated workspace with an attached children's play area.
AIBN Director Professor Alan Rowan said the child-friendly workspace is a positive step forward for the Institute, supporting parents with the challenge of juggling family and work.
"AIBN is a world leader in delivering translational science for the benefit of society, however, we must also respond to the changing needs of society and our researchers," Professor Rowan said.
"Research is a demanding career, and it takes hard work and dedication. We recognise that many working parents will experience times when they need to bring their children to work, and this space provides a safe and comfortable environment to do this."
The area features space for desk work and meetings, with an adjacent playroom equipped for children of all ages.
Professor Rowan said a family-friendly workplace provides benefits to the organisation as well as employees and their families.
"Fostering a positive, inclusive environment undoubtedly increases staff satisfaction and productivity for the organisation, while also providing greater peace of mind for parents," he said.
"Balancing work life and family commitments can place a toll on parents, who strive to do the best by both their children and employer. We hope the introduction of this new space goes a long way towards helping our employees enjoy a healthy work-life balance."
AIBN Deputy Director (Operations) Dr Zoe Cahill, speaking about her own experience as a mother of a two-year-old son, said it was important to have a workplace safety net for occasions when parents need to supervise children during work hours.
"You never stop being a parent, and parents can quickly and unexpectedly be required to look after their children for any number of reasons, at any time of the day," Dr Cahill said.
"Providing this flexible family space speaks volumes about AIBN's positive work environment. It shows our staff and students that they are important to us, and their families are important to us too."
The dedicated child-friendly workspace is the first of many initiatives to be implemented by the AIBN Gender Equity Commission to address gender imbalance and support women in science.
For more information on how AIBN supports work-life balance and gender equity, visit our careers page.
Media: Darius Koreis, d.koreis@uq.edu.au, +61 7 3346 3962, +61 427 148 187.