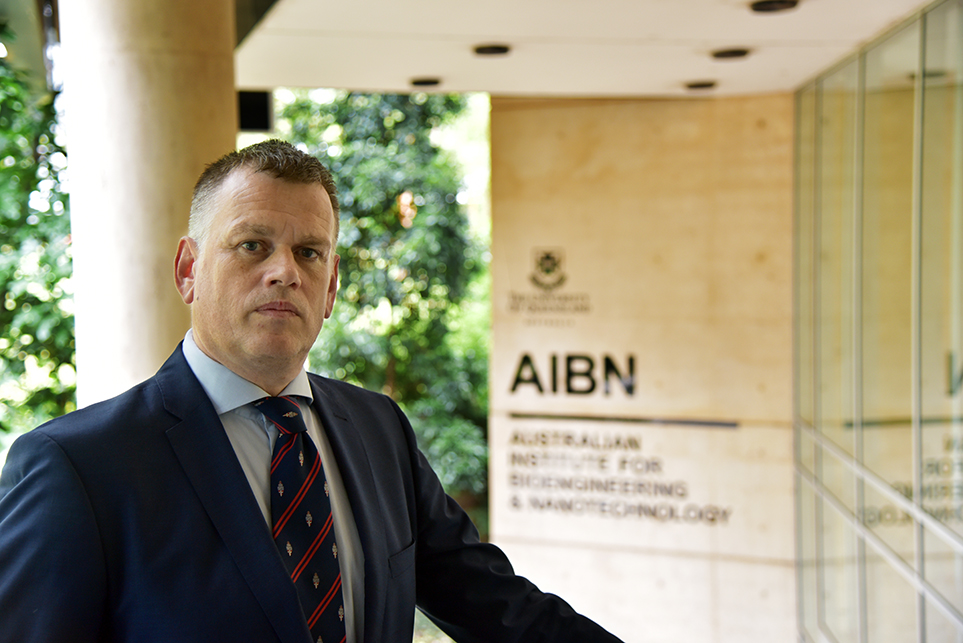 The Australian Institute for Bioengineering and Nanotechnology at The University of Queensland has welcomed Professor Alan Rowan as its new Director.
Professor Rowan said he was attracted to AIBN by the opportunities the Institute creates to deliver change and impact people's lives through scientific research.
"I'm delighted to be here. There's an energy to the city of Brisbane, and there's a sense when you walk into the Institute that you can really make a difference," Professor Rowan said.
"Being at the AIBN combines the two passions of my life – top edge fundamental science that solves the undiscovered, and turning that science into things that are useful to society."
Professor Rowan was appointed to the role following a lengthy international search, joining AIBN from Radboud University Nijmegen, Netherlands.
He hailed the work of AIBN Inaugural Director Professor Peter Gray, who led the Institute since its inception in 2003.
"AIBN has been fantastically led by Professor Peter Gray, who is one of the icons of Australian science," Professor Rowan said.
"The Institute has an incredible record, terrific scientists, and is highly praised. My job is to continue that and define new areas for the future."
"I want to continue taking the AIBN forward, to not only be one of the main centres of translational science in Australia, but also in the world."
Professor Gray said his successor was ideally placed to continue AIBN's work in delivering transformative research outputs.
"Professor Alan Rowan has shown great commitment to the Institute's core values of discovering solutions to defined problems, and under his direction AIBN will continue to lead through innovation," Professor Gray said.
"I'm proud of the Institute and of what we have achieved, and I look forward to seeing AIBN achieve further successes under Alan's dynamic leadership."
Professor Rowan's research interests have included solar cells, nano-electronics, and most recently mimicking materials in the human body. His research group will establish itself at AIBN over the coming months.
Media: Darius Koreis, d.koreis@uq.edu.au, +61 7 3346 3962, +61 427 148 187.