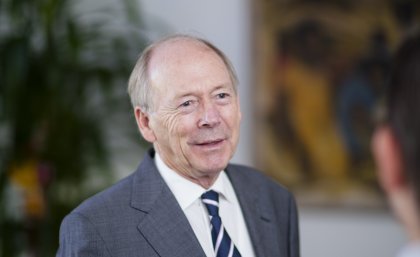 The director of the Australian Institute for Bioengineering and Nanotechnology at UQ has been appointed as Interim President of the Australian Academy of Technology and Engineering, replacing outgoing President Dr Alan Finkel.
AIBN director Professor Peter Gray UQ will take over from Dr Finkel who has been appointed as Australia's Chief Scientist.
"It's a great honour to continue Dr Finkel's work at the Australian Academy of Technology and Engineering," Professor Gray said.
"The Academy has a great history of involvement in Australian science, with former President Professor Robin Batterham also having served as Australia's Chief Scientist."
Professor Gray begins his tenure as Interim President after six years on the ATSE board, including serving as Vice-President. He was  inducted as a Fellow in 1992.
ATSE, one of four learned Academies in Australia, advocates for technological and scientific development for social, environmental and economic benefit.
The Academy has more than 800 inducted Fellows in its ranks, 32 of whom are UQ staff and affiliates, including UQ Vice-Chancellor and President Professor Peter Høj, Provost Professor Max Lu, and Pro-Vice-Chancellor (Research and International) Professor Anton Middelberg.
Dr Finkel said Professor Gray's experience meant he was an ideal candidate to lead the organisation.
"I'd like to acknowledge the contribution of Peter Gray who, after a long spell on the board of the Academy, has agreed to take on the role of Interim President and lead ATSE through its transition to a new President in 2016," Dr Finkel said.
"I am certain that Peter will do a brilliant job."
Professor Gray has led AIBN since it opened in 2003, and is a leading bioengineer in the development of antibodies and stem cell bioprocesses.
Media: Darius Koreis, d.koreis@uq.edu.au, +61 7 3346 3962, +61 427 148 187.