Associate Professor Claudia Vickers is a group leader working in the area of Industrial Biotechnology at AIBN. She uses synthetic biology approaches to answer key fundamental biological questions, and to develop and improve industrial bio-processes. Her aim is to replace current industrial practices (largely based on finite petrochemical resources) with sustainable, environmentally friendly processes.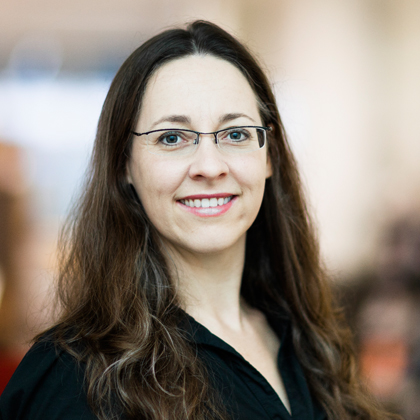 Vickers' research involving a group of natural products called isoprenoids is a good example of how she is using metabolic engineering — the rational redesign of organisms for the production of industrially-useful compounds — to achieve this aim.
Isoprenoids have many different biological functions, including roles as insect attractants and repellents. They also play an important role in plant defence against pathogens. In addition, isoprenoids have a wide range of useful biotechnological applications and are currently used in the production of pharmaceuticals, flavours, fragrances, fuels, and more.
Vickers has made a number of significant contributions to our understanding of the metabolic pathways in microbes, including the role isoprenoids play in plant biochemistry. She has also made important advances in our knowledge of the genetic and biochemical bases of their production. She is now using this information to redesign and tailor microrganisms for industrially-useful outcomes.
In recognition of her ground-breaking work, Vickers has won numerous awards and Fellowships, including a Queensland Government Smart State Fellowship, the University of Queensland Foundation Research Excellence Award, a Queensland Government Accelerate Fellowship, and a Young Tall Poppy Science Award from the Australian Institute of Policy & Science.
She has also been working to develop and support synthetic biology networks across Australia and New Zealand for several years. As part of this initiative, she was founding President of Synthetic Biology Australasia (SBA).
Earlier this year, Vickers took a joint appointment as Director of CSIRO's Synthetic Biology Future Science Platform (SynBio FSP), one of eight 'blue sky' research initiatives aimed at reinventing current industries and  creating new industries for Australia.
Media: communications@aibn.uq.edu.au; Dr Claudia Vickers, c.vickers@uq.edu.au, +61 7 334 63958.