Michaela George's mind has always been primed for science and technology. But it is her athletic pursuits, just as much as any lecture or textbook that have guided her mission to change the world.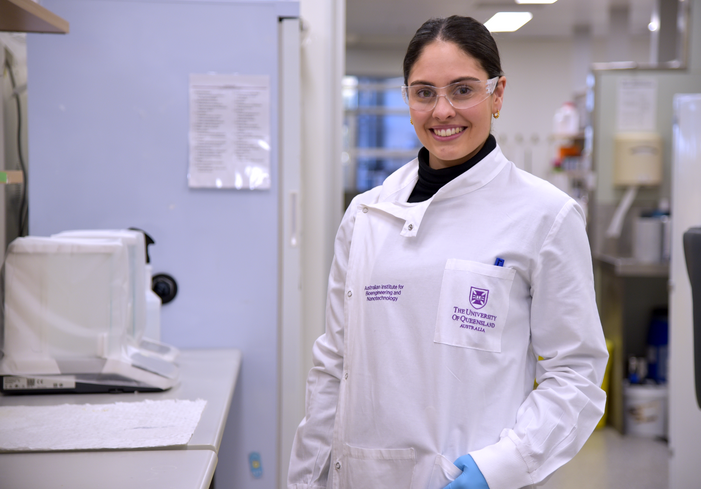 Michaela's time competing in triathlons and on the rowing course have exposed her to the experiences of parathletes, and how prosthetics can used to enrich people's lives.
"I've always loved all things STEM but I think it was through sport… and this crossover with health that showed me how science can be used to make a difference in the world," Michaela says.
"I was always inspired watching the parathletes compete. This opened my mind to the world of prosthetics and planted a seed for my continued interest of progress at the interface of sport, medicine, and engineering.
Michaela's curiosity propelled her through a Bachelor of Chemical and Biological Engineering (Honours) at the University of Queensland and into to the realm of wound repair – the central focus of her PhD at the Australian Institute for Bioengineering and Nanotechnology – and how smart biomaterials might be able to modulate immune response during healing.
"It's such a broad field but I'm really interested in how you can regenerate tissue, and how this may one day contribute to the future of prosthetics," the Rowan Group scholar says.
"When it came to doing my PhD, I wanted to have a translational focus so that I could work towards something that can positively impact the lives of others and broader society."
Michaela hopes her involvement in the
UQ Entrepreneurial PhD Top-Up Scholarship
will teach her more about the diverse ways that industry and academia overlap, and how it is in this nexus that new, life-changing products are developed.
"I am very aware that there are lots of barriers between the bench and the clinic, but I think that's my optimistic outlook," she says.
However, she is also confident the program will shape her into a stronger researcher.
"When I was considering pursuing a PhD, the question I had at the forefront of my mind was: 'How can I build on and develop beyond the technical skills that a PhD provides?'
"The entrepreneurial scholarship is obviously focused on the benefits of commercialisation, but it is also helping you build networking skills, public speaking skills, leadership skills," she says.
"This scholarship program ultimately allows me to become better researcher, industry professional and person in general."
Would you like to support our UQ Entrepreneurial PhD Top-Up Scholarship program? Our industry partners can build their business by connecting with a talent pipeline of high-performing and job-ready future employees and hosting them for internships and placements.