Leadership Training for the Bio Industries  
25-28 February, 2020
Brisbane, Australia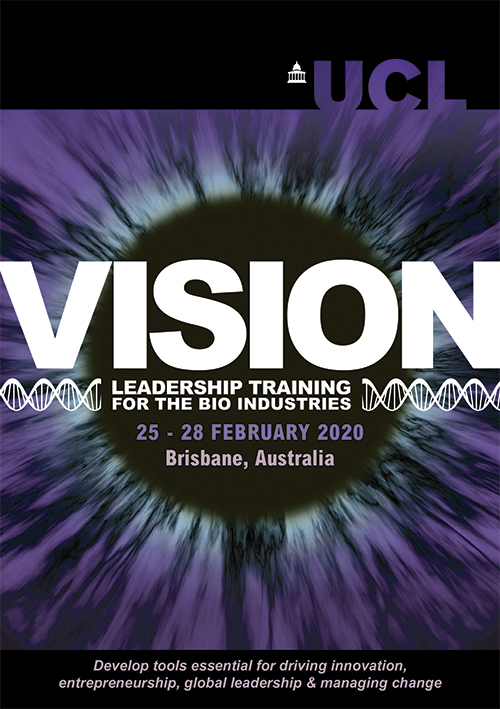 VISION is a leadership course uniquely tailored for the bioindustry to capture the synergies between bioscience, technology & business practice
In rapidly evolving technology driven bioindustries, leaders are facing challenging tasks of developing & adapting to new business models, identifying cutting edge research which can cost-effectively translate to manufacturing, devising & implementing strategies that fit within the global regulatory, marketing & socio-political landscapes.
UCL Biochemical Engineering pioneered the VISION Leadership Programme in 2010 to fill a gap in the market to cater specifically for individuals at management & executive levels within the bioindustry, therefore being more focused than traditional leadership courses. VISION addresses critical drivers facing the sector which create unique strategic challenges, including IP, portfolio management, integrating new technologies, adapting to regulatory requirements, managing risks and speed to market. Designed for high impact individuals, VISION provides key leadership insights tailored for present & future leaders in the bioindustries. This is achieved through rigorous intellectual analysis & practical peer-to-peer action-based learning providing the tools required to drive innovation, entrepreneurship & leadership in your organisation.
VISION has been successfully delivered in the UK and USA. For 2020 we will be celebrating 10 years of VISION in collaboration with the AIBN for delivery in Brisbane.
VISION 2020 is run by The University of Queensland's Australian Institute for Bioengineering and Nanotechnology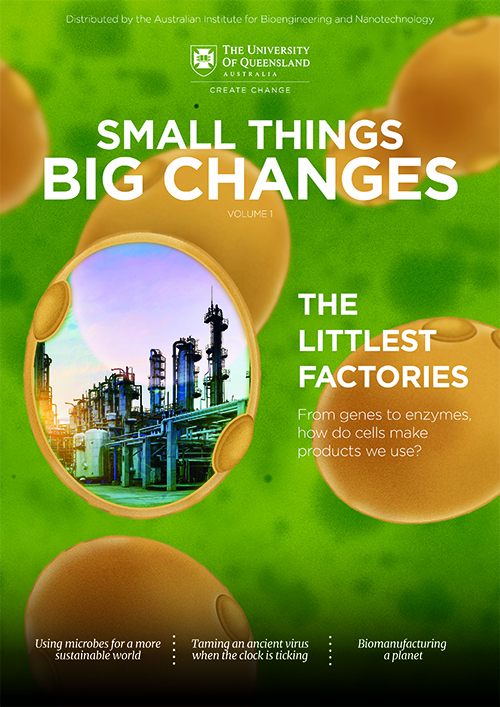 AIBN seeks to deliver innovative solutions to society's problems through sustainable materials, healthy living and translational success. Our research is underpinned by AIBN's Five Pillars of Research, which cover stem cell ageing and regenerative engineering, precision nanomedicine, advanced materials, agriculture nanotechnology and advanced biomanufacturing. These pillars focus AIBN's research efforts on developing new products, processes and devices for improving human health, the environment and quality of life. In this way, the Institute goes beyond basic research to promote and develop the growth of innovative industries, which will benefit Queensland and Australian economies.
The first edition of AIBN's magazine Small Things Big Changes, discusses the important role advanced biomanufacturing will play in the fourth industrial revolution and how it's already playing a critical role in how we care for the environment and global health.
Why attend VISION 2020?
Know how to make the transition from science & engineering based decision making towards company- wide strategic resolutions
Build an invaluable network with elite peers & experts from academia & industry who challenge, stimulate & inspire you
Gain perspectives on leadership challenges & critical business issues facing the bioindustry globally & formulate actions to address these
Learn from real life cases studies to succeed in making difficult decisions & implementing strategies to secure a more robust future for your business
Access & share best practices on how to be a good leader & avoid pitfalls in constantly evolving market
Achieve your personal development & career objectives
Evaluate the impact of key innovative research & technologies on the future of business & manufacturing
About our Venue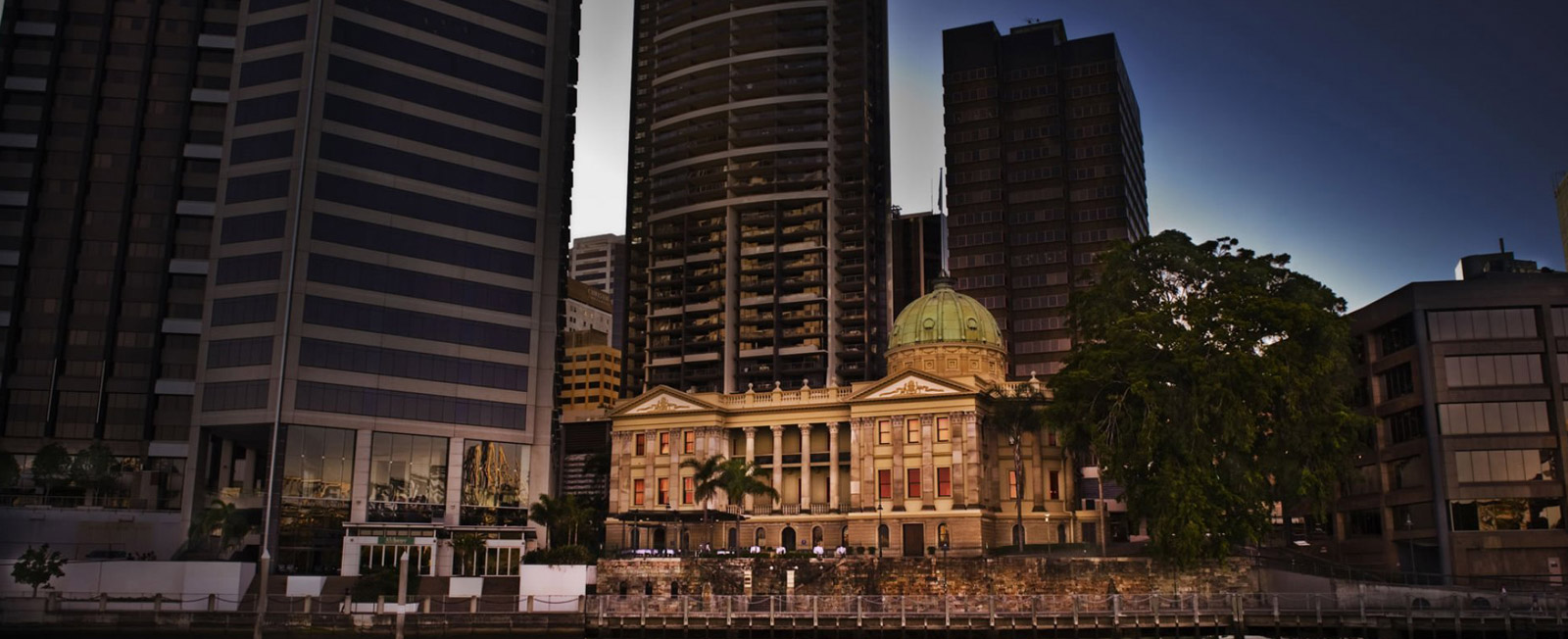 VISION 2020, will be held in Customs House, located in Brisbane, Australia. 
Customs House, one of Brisbane's heritage icons, is located on the river in the CBD. It is The University of Queensland premier downtown restaurant, function and heritage facility. Behind the grand Corinthian columns, you will find exquisite boardrooms, a stunning ballroom, seminar rooms and a restaurant.
Brisbane Accommodation
AIBN has secured exclusive accommodation discounts for the Stamford Plaza Brisbane for participants at VISION 2020.
Stamford Hotel Group Rate 
Superior King Room
$260 per room/per night (includes daily buffet breakfast for ONE person)
With limited rooms available at the special corporate rate, please email your enquiry to – aibn.events@uq.edu.au     
Hone your leadership qualities, adapt your approach to business challenges with new strategic thinking to enhance your performance & benefit your organisation.