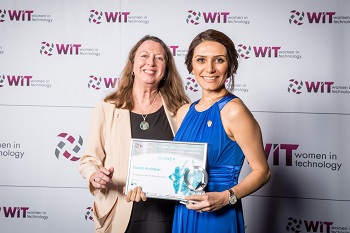 Queensland's peak industry body for women in technology and life sciences has recognised the outstanding early career achievements of a young researcher from The University of Queensland.
Australian Institute for Bioengineering and Nanotechnology researcher Dr Nasim Amiralianhas won the Women in Technology (WiT) Life Sciences and/or Infotech Rising Star Award.
Dr Amiralian serendipitously discovered unique nanofibers derived from Australian native spinifex grass while she was a PhD student in Professor Darren Martin's research group. The breakthrough was made when she made a decision to study on the cellulosic part of spinifex grass while working to understand the properties of spinifex resin, which has traditionally been used by Indigenous Australians as a natural adhesive.
She said her passion for research has grown stronger since she made the discovery in December 2012, and the award has encouraged her to continue this important line of work.
"From working on a PhD project that was struggling for results, to now being part of a growing team who are all working towards commercialising spinifex, is incredibly satisfying," Dr Amiralian said.
"I'm so grateful for this recognition – it's been such a journey these past six years, but there is still so much more to do to realise the immense potential of spinifex."
Current research is focused on using spinifex nanocellulose as an additive for carbon fibre and concrete, as well as super-strong latex, which is the primary subject of Dr Amiralian's recently awarded Queensland State Government Advance Queensland Research Fellowship.
The discovery of the nanocellulose fibres, and their subsequent application as a high performance, renewable additive, has led to a number of significant outcomes. These include three patents and a landmark umbrella agreement between UQ and the Dugalunji Aboriginal Corporation, which represents the Indjalandji-Dhidhanu people from the Camooweal region in north-west Queensland, for equitable commercialisation of the spinifex grass technology.
WiT President Ms Fiona Hayes said Dr Amiralian had a bright future in research, and was a shining example to other young researchers looking to establish their careers.
"The judging panel were blown away by the creativity, passion, persistence, and resilience Nasim has exhibited, as well as her ability to overcome challenges and obstacles," Ms Hayes said.
"Nasim has the vision and capacity to rapidly translate her research into ground breaking commercial applications which have flow-on benefits to Indigenous communities in Australia."
AIBN is a strong advocate for women's leadership in science. For more information on AIBN's initiatives to support the career progression of female scientists, visit www.aibn.uq.edu.au/women.
Media: Darius Koreis, d.koreis@uq.edu.au, +61 7 3346 3962, +61 427 148 187; Dr Nasim Amiralian, +61 7 334 63862, n.amiralian@uq.edu.au.