Research that has expanded the world's fundamental understanding of how matter behaves has seen a University of Queensland researcher receive one of the nation's top scientific accolades.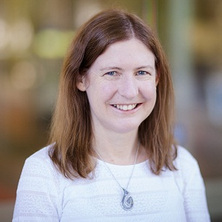 Professor Debra Bernhardt from UQ's Australian Institute for Bioengineering and Nanotechnology (AIBN) and School of Chemistry and Molecular Biosciences was elected a Fellow of the Australian Academy of Science.
She joins UQ colleague Professor Paul Hodges from the Faculty of Health and Behavioural Sciences in being named a Fellow.
UQ Vice-Chancellor and President Professor Peter Høj AC said the prestigious fellowships were given to a select group of scientists each year, recognising leading and innovative research.
"Academy Fellows are elected by their peers, so this is a tremendous honour and great recognition for their significant contributions," Professor Høj said.
"Professor Bernhardt and Professor Hodges are leaders in their fields and are committed to important research that can create change and shape the future."
"Debra is an outstanding scientist who conducts computational methods to model systems with implications at the nano and microscale, and these theoretical developments are leading to practical outcomes."
"On behalf of the UQ community, I'd like to congratulate both researchers on their election and for their outstanding achievements."
Professor Bernhardt, née Searles, is best known in the scientific world for her contribution to deriving the Evans-Searles Fluctuation Theorem.
The fluctuation theorem concerns the Second Law of Thermodynamics – which, simply stated, explains why processes occur in a certain direction – and allows us to mathematically prove this law, not just propose it as a law of nature.
These theoretical developments lead to practical outcomes – in Professor Bernhardt's case, to developing improved clean energy technologies, a fitting example of how fundamental research undertaken over a period of decades can revolutionise our understanding of the world and, ultimately, create change for the better.
Professor Bernhardt said she was 'honoured' to be named a Fellow.
"Science underlies everything and is important to be able to make the most of what the world offers us," she said.
"I really enjoy being able to understand the world around us and try to use that knowledge in ways that will have a positive influence on people and society."
In relation to clean energy, Professor Bernhardt said Australia's natural resources meant the nation had many different options for developing a more sustainable energy economy.
"We have access to renewable options such as solar and wind, but we need the ability to store this energy so it's available when and where people need it," she said.
"My group uses computational methods to model systems, particularly at the molecular level, to help design and select new materials for technologies, such as fuel cells, batteries and supercapacitors, that can store energy."
"Our calculations can help determine the best type of material to use that is both environmentally friendly and also, for example, will make a battery last longer and recharge more quickly."
Professor Bernhardt is among 22 new Fellows who will be  inducted into the Academy at a ceremony in Canberra tonight, joining 36 UQ colleagues who have previously been elected.