A new program that aims to significantly improve the design of high-performance large energy storage devices, called supercapacitors, will proceed after securing international backing.
AIBN's Professor Debra Bernhardt and Dr Baris Demir have secured funding from the Foundation for Australia-Japan Studies (FAJS) for a joint research project with colleagues in Japan.
Specifically, the funding of $139,000 will enable the AIBN team to investigate the charging-discharging process in supercapacitors in collaboration with Professor Katsuhiko Ariga of Japan's National Institute for Materials Science (NIMS) and the University of Tokyo, and Professor Yoshio Bando of NIMS.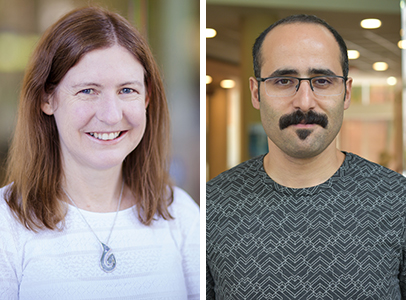 "To unlock the potential of renewable energy, more efficient energy storage systems such as batteries and supercapacitors are needed," says Prof Bernhardt.
Supercapacitors are devices that can store a large amount of electrical energy but there are gaps in knowledge about precisely how they function, she says.
Dr Demir explains that, when it comes to energy storage, a lot of critical interactions come into play.
"Performance of an energy storage device — a supercapacitor in this instance — depends on the electrostatic interaction of the electrodes and the ions in the electrolyte," he says.
To understand the dynamics of those molecular interactions, you can carry out simulations on a computer and this will help develop new models.
Unfortunately, current models don't work very well for nanostructured electrodes, he says. So that makes it difficult to know precisely how to tweak those interactions in order to improve energy storage.
Professor Bernhardt's research interests focus on the use of a range of theoretical and computational approaches to develop a fundamental understanding of the behaviour of matter.
In the new project, she and Dr Demir will provide expertise in molecular modelling and simulation to shed light on these molecular dynamics at the nanoscale, while their colleagues in Japan will provide expertise on synthesis, characterisation and application of nanostructured materials complements.
"Prof Ariga is a world-renowned supramolecular chemist working on the synthesis and application of functional porous and nanostructured materials, and Prof Bando is an international leader in nanomaterials synthesis and electron microscopy," says Dr Demir.
Prof Bernhardt and Dr Demir anticipate that, together with their colleagues, they'll be able to fill critical gaps in the knowledge of the molecular processes in supercapacitors.
"From this, we will be able intelligently select the type of electrolyte and the structure and composition of the electrode to improve performance," says Dr Demir.
The project will also benefit from partnerships with three Japanese companies:  Tayca co, NK Energy Frontier Co. Ltd, and Yoshino Denka Kogyo Inc.
"They have extensive facilities for manufacturing devices, which can be used to prepare and test various energy storage prototypes using the electrode materials developed as a result of this project," says Dr Demir.
Professor Bernhardt says the FAJS funded project could have far reaching outcomes.
"It could help enable the design of more efficient electrode materials and the production of advanced energy storage technologies for multiple uses including electric vehicles and household energy storage devices."