For Bahaa Al-mhanawi, research can be like riding a small boat in the rough seas. Especially when you're dealing with an ultra-rare condition surrounded by knowledge gaps.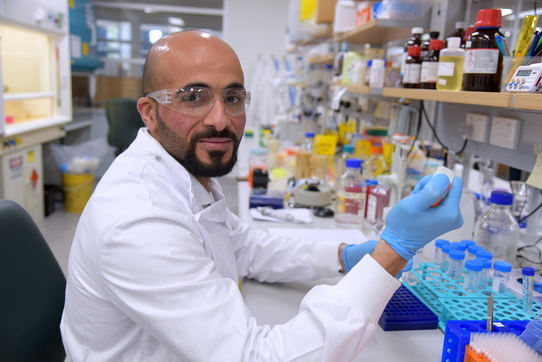 "You're in the shallow boat on the rough ocean so you have your ups and downs," Bahaa says.
"But you have to keep focused.
"When I get negative results, I don't get discouraged. When I get a very good result, I try not to get over excited and just be objective. It's all about observation and all about science and in the end of the day, whatever you find whether it's negative or positive.
"It is a finding you can share it with the world."
Bahaa's PhD at The University of Queensland's Australian Institute of Bioengineering and Nanotechnology focuses on white matter disease, specifically an ultra-rare inherited neuro degenerative condition known as Hypomyelination with brainstem and spinal cord involvement and leg spasticity (HBSL).
In the
Wolvetang Group
, Bahaa is generating brain organoids that are used to test the underlying mechanisms that may lead to the signs and symptoms in HBSL patients.
"Our goal is not only to understand this disease, but maybe the application it can be extended to other diseases in white matter," he says.
Bahaa says one of the most rewarding elements of tackling the unknown is that every piece of information uncovered is likely breaking new ground.
As an entrepreneurial scholar in the
UQ Entrepreneurial PhD Top-Up Scholarship
program, he is also well aware of the importance of working with industry in mind – both because of commercial realities of research, and the potential to scale up the number of people who can be helped.
"You might put out your research after four or five years of work," Bahaa says.
"But then it is important to speak with people and look at some ideas about how to commercialise it.
"To me it's kind of giving back, making your work useful, and this way you are not wasting the resources you have spent - because doing the research requires resources."
"And you will make sure that whatever you invest, it will be implemented for the greater good."
Would you like to support our UQ Entrepreneurial PhD Top-Up Scholarship program? Our industry partners can build their business by connecting with a talent pipeline of high-performing and job-ready future employees and hosting them for internships and placements.