Supercomputing for Super Chemistry
This half-day workshop aims to introduce students to the world of computational chemistry research.
Senior students with an interest in STEM will learn about the structure of molecules and how they arrange, by performing quantum mechanical calculations and molecular dynamics simulations on an Australian supercomputer. Students will be able to see the arrangement of molecules in their very own thin film deposition simulation, which is a method used by scientists to study materials for energy applications including solar panel films and battery electrodes.
Learning activities have been designed based on Unit 1 of the QCAA Chemistry syllabus, and also link to Computer Science, Mathematics and Physics. Students interested in any of these subject areas, especially Indigenous Australian, female or gender-diverse, are encouraged to participate.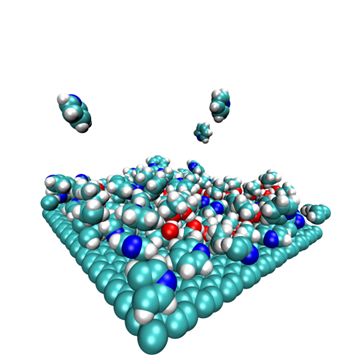 We are travelling to bring this workshop to your school!
Where: Schools between Brisbane and Cairns
When: Term 1/2 2024, exact dates TBD
Contact: scsc-workshop@uq.edu.au
---
Meet the team


 Dr Amy Geddes





 Dr Stephen Sanderson
All members of the team are from the Centre for Theoretical and Computational Molecular Science.
This event is supported by the Queensland Office of the Chief Scientist, the Australian Research Data Commons, and the Australian Institute for Bioengineering and Nanotechnology at the University of Queensland.