Developing novel materials to direct stem cell behaviour and tissue rejuvenation
Duration:
October 2016
–
December 2019
Project Summary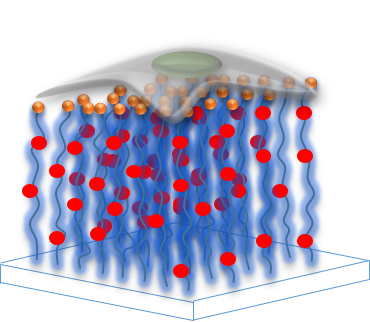 Stem cells play a key role in the development of an organism and, later in life, the maintenance and regeneration of tissues. In vivo, stem cell behavior depends on the properties of complex niches that provide an intricate array of biochemical and biophysical signals. Over time, adult stem cells suffer dysfunction in self-renewal and lineage potential. The main hypothesis behind this change of behavior is the modification of both the local and the systemic factors present in the niches. Gaining further insights into the complex regulation of adult stem cell maintenance is key to understanding the processes of generalized tissue degeneration associated with ageing. Hence, to mimic the complexities of stem cell-niche interactions and facilitate a more rapid transition towards clinical and pharmaceutical applications, polymer brush interfaces could allow the ability to manipulate stem cells in vitro by using polymer brush itself or bioactive properties of additionally attached biological cues.
Polymer brushes can be generated via reversible addition-fragmentation chain transfer (RAFT) polymerization. The RAFT process has grown to be one of the most versatile and powerful polymerization techniques to synthesise complex polymeric architectures. Also known as living or controlled radical polymerization, RAFT is able to mimic closely the feature of living polymerization while benefiting from the versatility of a radical process. This versatility allows us to design polymeric brush nanostructures and surfaces that offers multivalency for the attachment of biological cues, tailorable physical and chemical functionalities with exceptional precision for the development of materials in biomedical applications.
Research Group
Keywords
stem cells, ageing, tissue engineering, gene delivery, polymer science