The success of mRNA vaccines and cell therapies has highlighted the importance of biotechnology, and AIBN has helped kick-start the process for establishing a biomanufacturing ecosystem for Queensland.
AIBN hosted a Queensland Advanced Biomanufacturing Network event on November 18, which brought together more than 100 researchers, industry partners, government and supporters for a panel discussion and collaboration opportunity. 
Event host and AIBN Institute Director Professor Alan Rowan said a biology-based economy was important to Queensland's future.
"With the success of mRNA vaccines to address COVID-19, we see that vaccines, biologics and cell therapies are the future of medicine and we must continue to invest in the technologies," Professor Rowan said.
"These technologies are also foundational to our future bioeconomy strategy.
"We need to ensure we have collaboration between leaders in research, industry and government – and that was what our event aimed to achieve as a first step."
Professor Rowan said the Queensland research community had strong collaborative ties with industry to help translate their research from laboratory experiments to relevant products and services.

This has been shown with the establishment of successful companies including Vaxxas, inspired by AIBN work on non-invasive vaccine technology.

Professor Rowan said entrepreneurial skills were vital for young researchers, and the UQ Entrepreneurial PhD Scholar Program, announced at the event, would help graduate students through industrial placements and business courses, with support from UQ's Liveris Academy.

Professor Rowan also announced the establishment of a new Ideas Bio, in collaboration with the UQ faculties of Science and Engineering, the National Biologics Facility and the UQ Node of Bioplatforms Australia.

"Ideas Bio brings together cutting-edge approaches from around the world to build on evolving models of cell engineering in Europe and the USA," he said. 

"It will consist of four dedicated fermentation laboratories and position Queensland as a leader in engineered biological systems – essential for creating a new biomanufacturing industry that leverages all that we have to offer."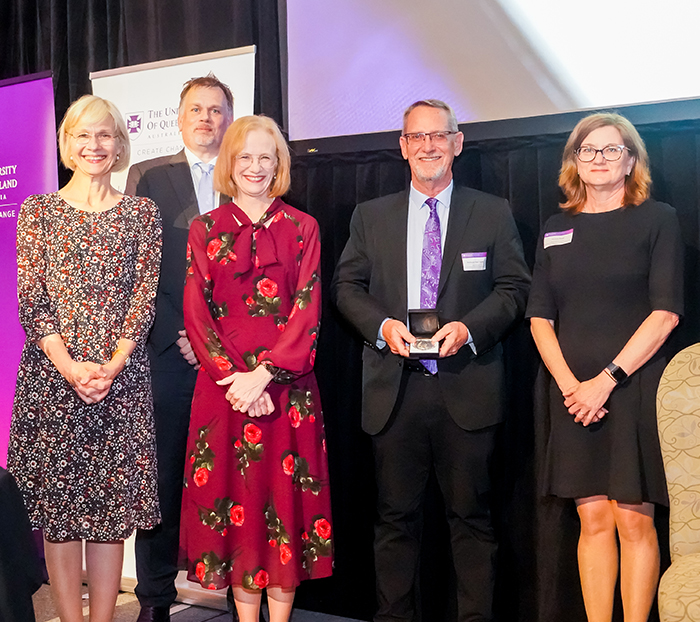 Ideas Bio will work alongside BASE, a facility producing high-quality, high-purity RNA and DNA for Australian researchers, driving advances in health and underpinning the bioeconomy and sovereign capability.
 
The networking event also celebrated successes, with Professor Paul Young awarded the inaugural AIBN Translational Research Award, recognising his work at the forefront of vaccine development during the past 30 years.