Biomaterial scaffolds and microdevices to direct stem cell differentiation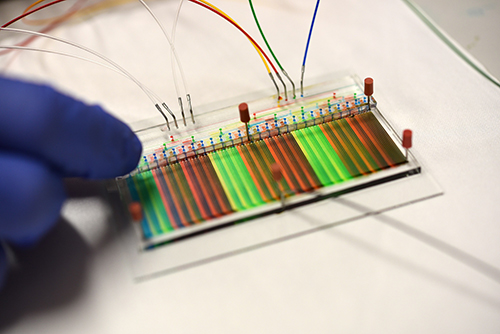 The Cooper-White group, led by Professor Justin Cooper-White, consists of post-doctoral research fellows with expertise in the areas of Microfluidics, Stem Cell Biology, Polymer Chemistry and Biomaterials who are ready willing and able to support the interdisciplinary approach to solving real world problems embodied by this team. Our students hail from backgrounds such as bioengineering, material science, biotechnology, medicine, veterinary science, chemical engineering and general biology and the training in this lab ensures that they continue to develop as scientists in both skills and outputs.

The group has offices and labs on level 4 of the state-of-the-art AIBN building with an impressive suite of lab equipment to facilitate the multi-disciplinary research performed in this group. All researchers also have easy access to the extensive research infrastructure available at University of Queensland (a global top 100 University), such as the ANFF-Q, CAI, CMM and the various on-campus workshops.
Research Highlights
Elucidating the microenvironmental cues that regulate stem cell behaviours and translating those insights into biomaterial scaffolds and microdevices to direct stem cell differentiation.