Rapid Response Vaccine Pipeline
Duration:
January 2019
–
January 2024
The Rapid Response Vaccine Pipeline team at UQ is funded by the Coalition for Epidemic Preparedness Innovation (CEPI) with a goal to develop a pipeline for rapid development of protein subunit vaccines through to Phase I Clinical trial. The team is part of both the School of Chemical and Molecular Biosciences (SCMB) and the Australian Institute of Biotechnology and Nanotechnology (AIBN). In 2020, the Pipeline responded to CEPIs emergency call and progressed a COVID-19 vaccine candidate from sequence information to clinical trial dosing within 6 months, making it one of the first vaccines to enter clinical trials globally. In phase I clinical trials, UQ's COVID-19 vaccine was shown to be safe and produce a strong neutralising immune response, however the initial version was not progressed due to the induction of response that interfered with some HIV diagnostic tests.
Keith Chappell's team at AIBN has now successfully reengineered the technology to ensure that Molecular Clamp platform vaccines will not cause diagnostic interference, and a Phase 1 clinical trial of the improved Molecular Clamp vaccine platform will be funded by CEPI in 2023. The Rapid Response Vaccine Pipeline is developing the technology, processes and workflow of producing safe and effective Molecular Clamp stabilised protein subunit vaccines with the goal of responding even faster to the next viral epidemic.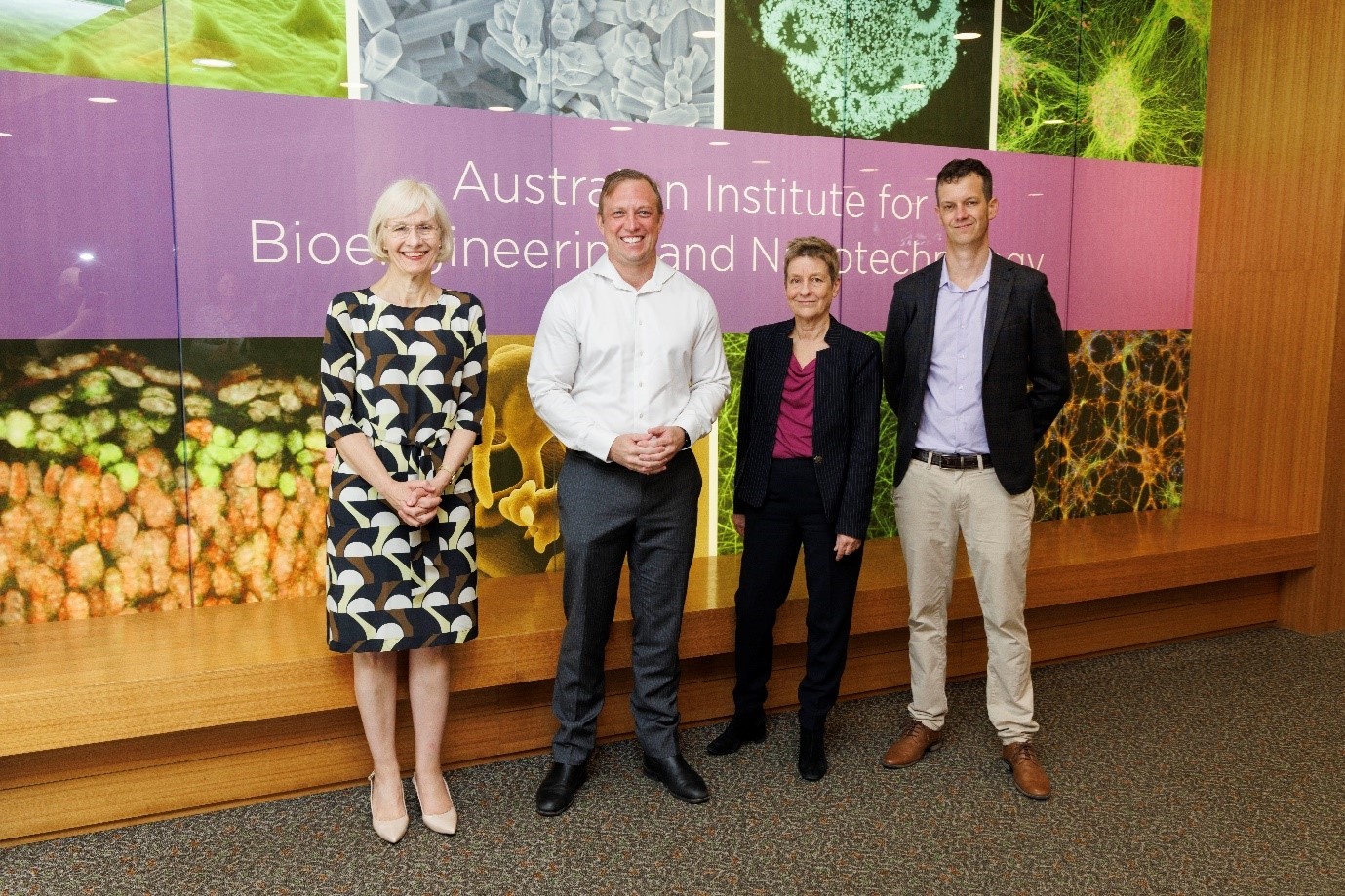 Publications
Rapid Response Subunit Vaccine Design in the Absence of Structural Information.
Wijesundara DK, Avumegah MS, Lackenby J, Modhiran N, Isaacs A, Young PR, Watterson D, Chappell KJ.Front Immunol. 2020 Nov 4;11:592370. doi: 10.3389/fimmu.2020.592370. eCollection 2020.
Preclinical development of a molecular clamp-stabilised subunit vaccine for severe acute respiratory syndrome coronavirus 2.
Watterson D, Wijesundara DK, Modhiran N, Mordant FL, Li Z, Avumegah MS, McMillan CL, Lackenby J, Guilfoyle K, van Amerongen G, Stittelaar K, Cheung ST, Bibby S, Daleris M, Hoger K, Gillard M, Radunz E, Jones ML, Hughes K, Hughes B, Goh J, Edwards D, Scoble J, Pearce L, Kowalczyk L, Phan T, La M, Lu L, Pham T, Zhou Q, Brockman DA, Morgan SJ, Lau C, Tran MH, Tapley P, Villalón-Letelier F, Barnes J, Young A, Jaberolansar N, Scott CA, Isaacs A, Amarilla AA, Khromykh AA, van den Brand JM, Reading PC, Ranasinghe C, Subbarao K, Munro TP, Young PR, Chappell KJ.Clin Transl Immunology. 2021 Apr 5;10(4):e1269. doi: 10.1002/cti2.1269. eCollection 2021.
Safety and immunogenicity of an MF59-adjuvanted spike glycoprotein-clamp vaccine for SARS-CoV-2: a randomised, double-blind, placebo-controlled, phase 1 trial.
Chappell KJ, Mordant FL, Li Z, Wijesundara DK, Ellenberg P, Lackenby JA, Cheung STM, Modhiran N, Avumegah MS, Henderson CL, Hoger K, Griffin P, Bennet J, Hensen L, Zhang W, Nguyen THO, Marrero-Hernandez S, Selva KJ, Chung AW, Tran MH, Tapley P, Barnes J, Reading PC, Nicholson S, Corby S, Holgate T, Wines BD, Hogarth PM, Kedzierska K, Purcell DFJ, Ranasinghe C, Subbarao K, Watterson D, Young PR, Munro TP.Lancet Infect Dis. 2021 Oct;21(10):1383-1394. doi: 10.1016/S1473-3099(21)00200-0. Epub 2021 Apr 19.
Characterization and comparison of novel adjuvants for a prefusion clamped MERS vaccine.
O'Donnell JS, Isaacs A, Jakob V, Lebas C, Barnes JB, Reading PC, Young PR, Watterson D, Dubois PM, Collin N, Chappell KJ.Front Immunol. 2022 Sep 2;13:976968. doi: 10.3389/fimmu.2022.976968.