Are you a scientist ready to make a real difference to the health of our community and planet?
At the AIBN we provide an innovative, positive environment for developing and enhancing your research career, specifically in the fields of precision nano-medicine, advanced bio-manufacturing and nano-engineered materials.
Since our establishment in 2004, AIBN has grown to become one of the largest institutes of its kind globally. 
With cutting-edge facilities, research centres, tools and equipment on-site at The University of Queensland, combined with extensive experience and a track record of commercialisation opportunities, we attract leading scientists and researchers from across the world.

Work with an inspirational, diverse and game-changing team
At AIBN, you will not only have access to world-class facilities, but also to a 400-strong team of world-leading minds who are changing the game on health, energy and the bioeconomy.
Our team includes world-leading chemists, physicists, biologists, mathematicians, engineers, bioinformaticians and neuroscientists. 
Our diverse mix of cultures, approaches, and experiences creates a highly energetic, entrepreneurial and exciting atmosphere, which supports each other and the development of creative solutions.
Smart, dedicated and entrepreneurial, our people have a common passion to develop next-level solutions for the world's most pressing problems. 
We're incredibly proud of our team, which possesses a unique blend of exceptional talent, imagination, energy, experience and determination to change the world.
 
Walking the talk on diversity
We are a melting pot of people from different cultures, ages, genders and backgrounds who welcome diversity of thought, ideas and approaches. With more than 75% of our team under 30 and more than 50% women we walk our talk on diversity.
Research Students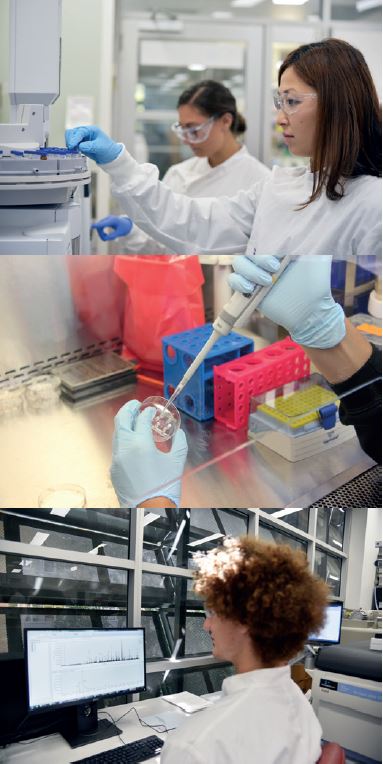 One of our key points of difference is our commitment to creating market-ready solutions. We make it easier and faster for our partners to get to market with solutions that work.
AIBN was established to translate science into solutions for problems industry, government and the community cannot solve.
We bridge the gap between the problems our partners face and the solutions they need for commercial success – by taking solutions from the laboratory bench to large-scale manufacturing. 
This entrepreneurial spirit provides our staff with a unique experience: not only with cutting-edge science, but also access and exposure to the business and commercial world.
PhD students can also access our ground-breaking initiative, the AIBN Entrepreneurial PhD Scholar program, which offers an expanded PhD for selected exceptional students that includes courses and skill development in entrepreneurship and innovation. 
Created in partnership with industry, the AIBN Entrepreneurial PhD Scholar program provides skill development, entrepreneurship mentoring and a three-month industry placement, equipping our graduates for leadership roles in government, industry research or academia.
If you like the sound of us, we'd love to hear from you at entrepreneurphd@aibn.uq.edu.au.