Often the work of the Australian Institute for Bioengineering and Nanotechnology (AIBN) is invisible to the naked eye. But it is this precise approach – tackling problems one nanometre at a time – that allows us to make such huge strides forward. This was no different in 2022.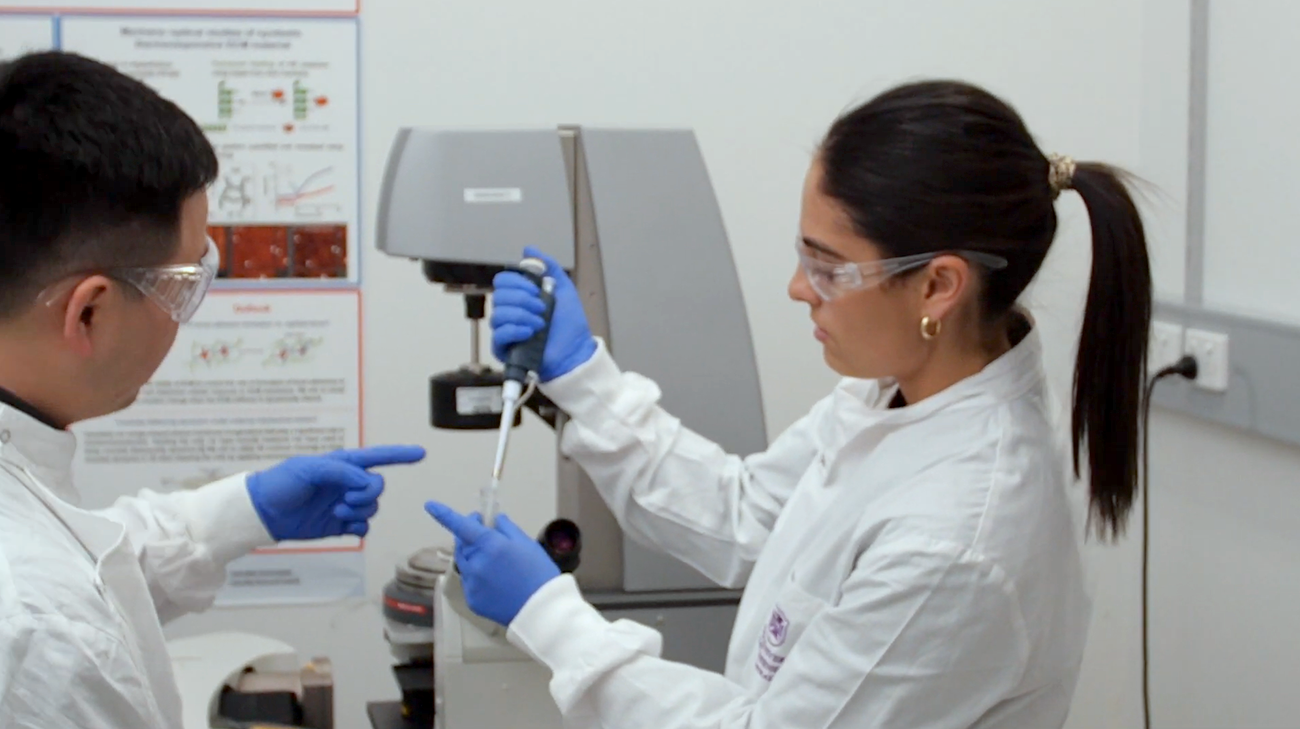 Our institute of 400 + brilliant scientific minds are equipped with cutting edge technology that allows them to solve the world's most pressing energy, health, and bioeconomic puzzles.
Over the past 12 months we charted a path towards better, hyper-targeted pain medication, and showed how we will use snake venom to treat wounds. 
We pioneered greener, longer-lasting, cheaper batteries, and were once again key players in crucial vaccine research.
What's more, we did it hand-in-hand with some of the nation's leading business minds.
As we close the book on 2022 it is time to look at how far we have come during the year, and how we are setting ourselves up for an even bigger 2023.
Working hand-in-glove with industry
The added complexities of COVID-19 and the newly opened Queensland border provided a new set of challenges for everyone, but the AIBN  kicked off 2022 in a position of strength.
The institute was already on the front foot following a 12 per cent increase in funding from industry, government, grants and philanthropy – known as HERDC - while a near doubling of contracts signed since 2019 has belied a generalised downturn in University funding.
This of course speaks to the strength of our external partnerships.
Throughout 2022 we used our suite of industry-friendly facilities and experts to show just why we are the logical partner for scientifically minded businesses needing results.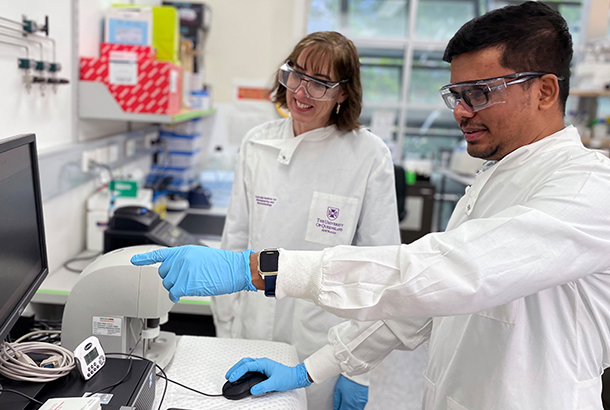 Our roster of stakeholders – which already includes state and federal government and globally recognised firms such as Boeing, GMG, CSL, Dow Chemical, and Woodside Petroleum - continued to grow, while we were also able to add number of new commercial collaborations and spin-out successes to the tally.
We announced this year that a newly created Australian Research Council Hub for Advanced Manufacture of Targeted Radiopharmaceuticals (AMTAR) will become a one-stop-shop for experts and industry to innovate and streamline emerging radiopharmaceutical technologies.
Created through a $5 million Australian Research Council grant and more than $10 million from partners, AMTAR will innovate and discover across the radiopharmaceutical field, to ensure new technologies can be produced, manufactured and readied for market.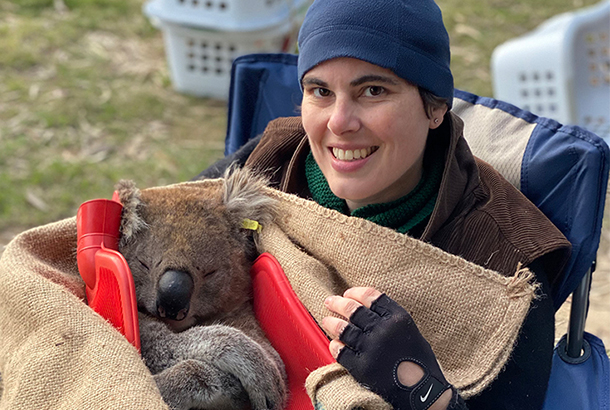 The AIBN was also proud to secure its position as an integral part of the UQ-led Food and Beverage Accelerator (FaBA) project, which will receive a total of $174 million from industry and government grants. Our expertise in synthetic biology and biomanufacturing makes us perfectly placed to lead FaBA's Innovative Ingredients program that will help supercharge commercialisation in the food and beverage industry.
Our BASE mRNA facility has now built more than 40 mRNA (65 mg) vaccines, therapies, and reagents for use by our scientific, clinical, and industry partners, and is a leading example of how we have integrated various National Collaborative Research Infrastructure Strategy (NCRIS) facilities and Australian Research Council (ARC) centres into one space in order to run industry-related projects for Australian researchers and companies.
Speaking of mRNA, a new $280m Translational Science Hub announced by global pharma firm Sanofi and the QLD government, will use the labs and infrastructure of UQ, Griffith University and the Translational Research Institute to help drive the development of new vaccines and health care solutions across the world, and further cement Queensland as a bastion of biomedical excellence.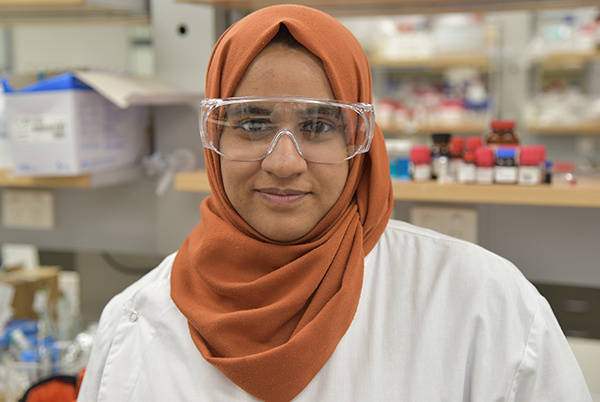 While on vaccines, in November we were thrilled to announce that the second-generation molecular clamp vaccine - developed at the AIBN - would be taken to a proof-of-concept human trial.
Associate Professor Keith Chappell, co-leader of UQ's Rapid Response Vaccine Pipeline, said his team had been able to validate the Clamp2 platform in the laboratory and, importantly, ensure this re-engineered technology does not pose any issue with diagnostic interference as was encountered in 2020. 
Thanks to continued support from The Coalition for Epidemic Preparedness Innovation (CEPI), the Queensland and Australian Governments and philanthropic partners, the clinical batch of the Clamp2 vaccine will be manufactured at the Queensland node of the National Biologics Facility (NBF) – which is housed within the AIBN.  
As well as the development of this second-generation molecular clamp vaccine platform, the Chappell group – headed by molecular biologist Associate Professor Keith Chappell -  progressed a second vaccine to clinical trials. This vaccine, for Respiratory Syncytial virus was produced by UQ spinout company Vicebio.
Other crucial commercial partnerships included teaming up with battery firm Redflow through the ARC Research Hub for Safe and Reliable Energy Storage to improve Zinc Bromine Module batteries, while support from gold miner Evolution allowed us to further an innovative and potentially life-saving diagnostic device – the Immuno-storm chip – that could prevent cancer and COVID-19 patients from suffering a potentially lethal immune reaction.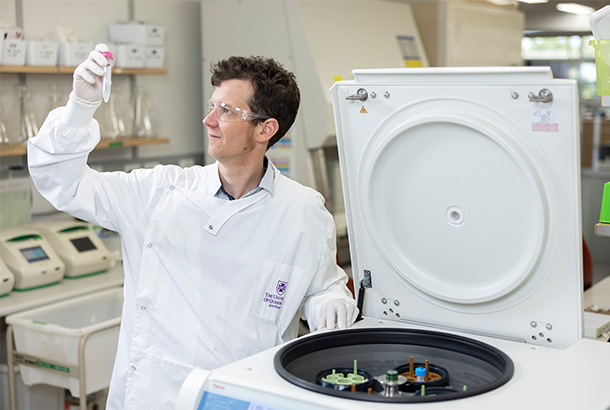 AIBN spin-out company Cassowary Pharma announced itself on the national stage after receiving backing from the Medical Research Future Fund's (MRFF) national $40 million CUREator Scheme.
The funding will help Industry professor Trent Munro and the Cassowary Pharma team to creating a new range of hyper-targeted medications to treat debilitating and chronic pain conditions, and anticipates identifying a lead candidate over the next 18 months as a stepping stone to clinical trials.
Another AIBN success story to chart new territory in 2022 was startup Vaxxas, founded by UQ commercialisation company UniQuest in 2011, which partnered with the US Government to test its needle-free vaccine delivery technology and has just kicked off its first human clinical trial of its needle-free patches to fight COVID-19.Elsewhere, our work in the field of organoids continues to grow.
In 2022 we welcomed the Australian Organoid Facility (AOF) to the AIBN building, scaling up our organoid production capability and bolstering our reputation as the home for stem cell research for personalised medicine.
The AOF will initially design, grow, and supply organoids as required by other researchers and scientific institutes with a view to scaling up operations and securing commercial contracts.
AIBN: where science meets entrepreneurialism
To truly harness the economic potential of research – and meet the skill needs of the future – it is clear that we must produce more than academics and scholars.
That is why the AIBN approaches science with entrepreneurialism front of mind.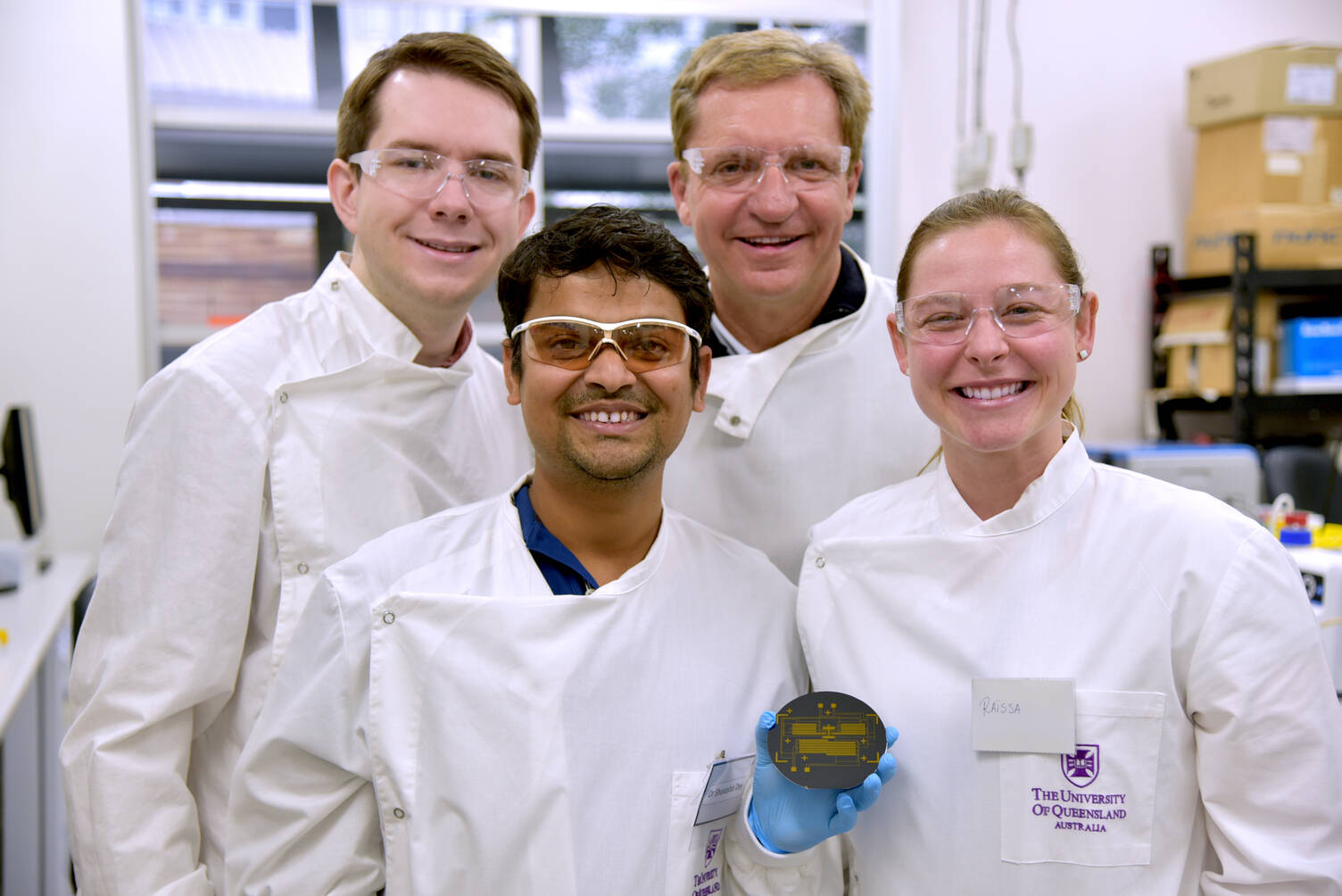 This year we welcomed our first cohort of PhD students to the new UQ Entrepreneurial PhD Top-Up Scholarship in partnership with UQ's Liveris Academy.
Just as the $1.6 billion Australian Economic Accelerator is aimed at commercialising research success, this scholarship aims to strengthen ties with industry and lead to more and better translation of scientific ideas into real world solutions.  
World-leading minds attracting major funding
Attracting science funding can be tough – but the AIBN's visionary researchers mean we continues to secure our slice of the pie.
Professor Matt Trau was one of our headline successes in 2022, winning an ARC Laureate Fellowship worth $2.9 million to help him develop on-demand, miniaturised, remote molecule manufacturing in a much more economical and environmentally friendly way. Professor Trau and his team at AIBN invented a unique way to synthesise molecules on a tiny electronically controlled chip, or silicon wafer.
Meanwhile, the quest to design life-saving vaccines and new mRNA drugs was also given a shot in the arm with two AIBN researchers winning a $3.6 million slice of Investigator Grant funding.
Associate Professor Tim Mercer and Advance QLD Research Fellow Dr Jie Tang were among the 225 scholars nationwide to be named in the prestigious 2022 National Health and Medical Research Council (NHMRC) Investigator Grant list, each winning five-year fellowships to accelerate their work.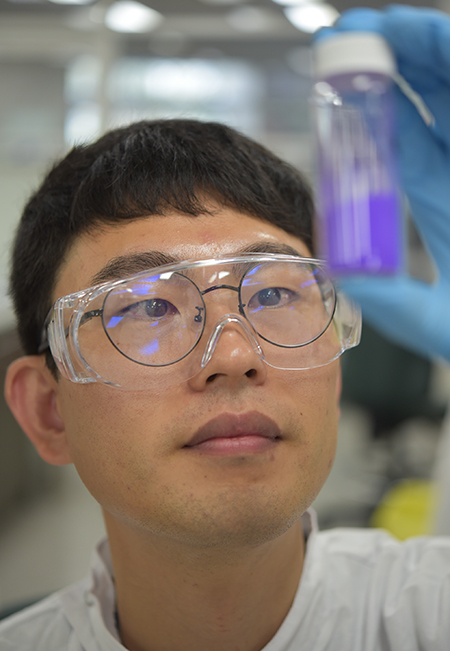 In September we cheered our UQ-Bulugudu Spinifex Partnership Team for its resounding success at the annual UQ Research Partnerships and Translation Awards.
This partnership between the AIBN, Bulugudu Ltd and UniQuest won the 2022 Indigenous Research and Innovation Partnerships for enabling remote Indigenous communities to process native spinifex grass into diverse commercial applications.
Big things are coming in this space in 2023.
Late in the year we learned that three exciting AIBN projects will share $1.5 million under the latest Australian Research Council (ARC) Discovery Projects scheme dedicated to accelerating information essential for a knowledge-based economy.
This year $221 million was awarded to almost 500 fundamental 'blue-sky' Discovery projects across the country, including the work of AIBN's Professor Lianzhou Wang and Dr Zhiliang Wang, Dr Bin Luo, Dr Peng Chen, and Dr Xia Huang, and Professor Andrew Whittaker, Associate Professor Idriss Blakey, and Dr Hui Peng. 
Elsewhere, wounds that heal without leaving a scar, and research to prevent developmental impairments in children were two crucial projects backed under the latest National Health and Medical Research Council (NHMRC) Ideas Grants funding round.
Professor Ernst Wolvetang - renowned for his work in organoids - was awarded a $1.36 million Ideas Grant over three years to use a special brain organoid to study birth asphyxia, and test treatments that could help affected infants avoid disability later in life.
Meanwhile, Professor Alan Rowan and his team will use their $994,637 Ideas Grant over three years to explore how the healing properties of in-utero babies could lead to technology that promotes scarless wound healing.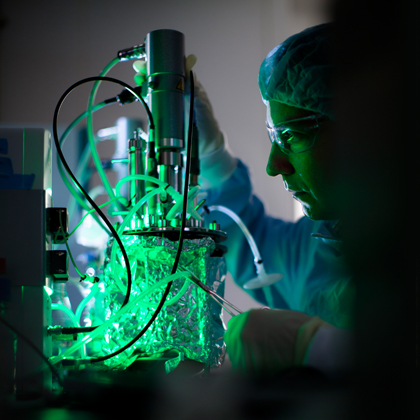 Finally, two AIBN academics are also each set to play key roles at two new ARC Centres of Excellence, with Professor Rowan named a chief investigator at the ARC Centre of Excellence in Quantum Biotechnology, while Professor Whittaker is the chief investigator for the ARC Centre of Excellence for Green Electrochemical Transformation for Carbon Dioxide.
Each of these Centres of Excellence is being established to help find solutions to intractable challenges – and they will each attract multi-million-dollar investments from NGOs, industry, government, and university partners.
Rocketing ahead
From our perspective here at the AIBN, it is our industry partnerships, with people and organisations, that are the backbone of our research success.
Without industry partnerships, the AIBN would never have been able to create real world solutions like safer, faster charging batteries, or an anti-viral coating for spacecraft, or new clamp technology for administering vaccines more effectively.
As we head into 2023, we look forward to continuing this journey of discovery with you.
Each tiny step the AIBN takes represents a new opportunity change the world.
And, over the course of a year, these nanoscopic movements add up to phenomenal progress. 
Thank you for supporting our work over the past year, and be sure to watch this space.